---
Information contained within this post is current as of its publication on February 23, 2023. Due to the fluid nature of the situation and the continuing release of new information, future updates will be regularly added and specified at the end of the post. 
What happened in East Palestine, Ohio?
 On February 3, 2023, just before 9:00 PM, approximately 38 cars of a Norfolk Southern Railway Company (Norfolk Southern) train derailed in East Palestine, Ohio. Eleven cars carried hazardous chemicals even though the train was not officially classified as a hazardous material train, which would have required the railroad to post and display notification of its cargo [32]. Five of the cars carried the carcinogen vinyl chloride, which concerned company officials after the crash because of its unstable nature and potential combustibility. To reduce the risk of a shrapnel explosion, the company advised a controlled burn of vinyl chloride.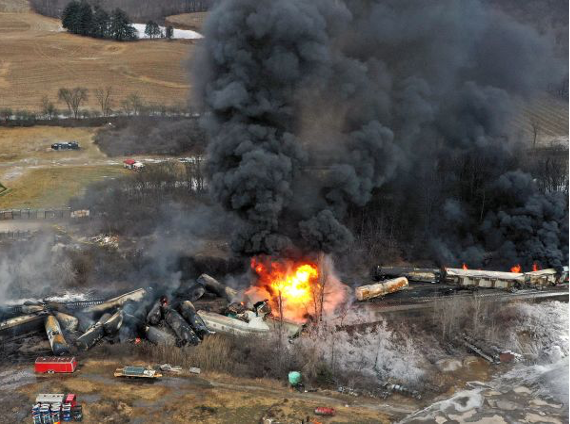 Photo: CNN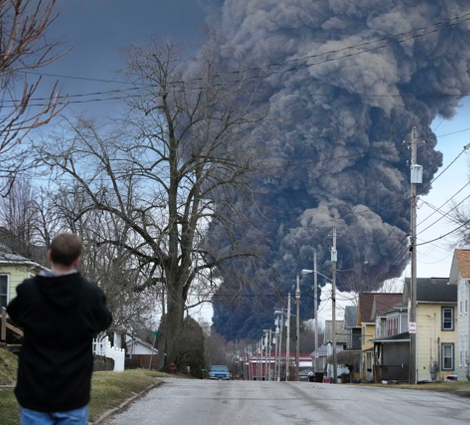 Photo: Cleveland.com
In preparation for the burn off, residents were evacuated from a one by two-mile area which included portions of Ohio and Pennsylvania on orders from Ohio Governor Mike DeWine and Pennsylvania Governor Josh Shapiro [10]. The evacuation area was established based on modeling conducted by the US. National Guard and Department of Defense. The chemical burn proceeded on February 6, 2023 releasing fumes into the air which "could be deadly if inhaled". Governor DeWine's office also explicitly warned residents that anyone who remained in the most immediate zone evacuated  faced "grave danger of death" while others in the outlying zones risked "severe injury, including skin burns and serious lung damage."
The public later learned that more hazardous materials were onboard the derailed train in addition to the vinyl chloride. In a follow up site remediation plan submitted to the Ohio Environmental Protection Agency (EPA) on February 10, 2023– one week after the accident–Norfolk Southern disclosed that additional hazardous chemicals, including butyl acrylate, ethylene glycol, monobutyl ether, ethylhexyl acrylate, and isobutylene were on board [1]. Yet two days after the burn, on February 8, 2023, Governors DeWine and Shapiro ended the evacuation orders citing air quality samples from EPA roaming monitors in the area that "consistently showed readings at points below safety screening levels for contaminants of concern" [13]. 
On Wednesday February 15, Governor DeWine's office also announced that, according to the Ohio EPA, East Palestine's municipal water was safe for residents to drink, based on tests for volatile organic compounds (VOCs) such as vinyl chloride and butyl acrylate. Concern has arisen over these initial test results due to the fact that the only tests which the Ohio EPA site provided publicly as of February 22, 2023 are tests conducted privately on behalf of Norfolk Southern Railroad and Dallas-based consulting firm AECOM who contracted the company Eurofins [34]. Those tests only sampled the water in East Palestine through February 12, 2023. An aquatic ecologist from Virginia Scientist-Community Interface, an advocacy group of scientists and engineers, called the claim that the sampling found no contaminants concerning, given the improper preservation of samples [8]. They noted that the Eurofins test results would not be acceptable in a scientific application [8] . Columbiana County Health District has also sampled the water but those results have not been released publicly and were not public at the time when Governor DeWine's press release declared that the water was safe to drink. Residents were able to request follow-up air tests at no charge with contractors hired by Norfolk Southern. One local store owner expressed many residents' mistrust of the government and corporate testing, reporting that on February 14 one such air testing team came to their location and stayed for only 10 minutes because of the intense and sickening smell, despite finding no evidence of vinyl chloride [7]. Some residents have reported health related symptoms including dizziness, mucus membrane irritation, headaches, and smells as far as fifteen miles away [22].
Water contamination remains a legitimate concern. The remediation plan submitted to the Ohio EPA by Norfolk Southern revealed that "resulting releases affected stormwater infrastructure and surface water, including Sulphur Run and Leslie Run" [1]. These are two local water sources which meet in East Palestine. Leslie Run is part of Little Beaver Creek, which has been an Ohio State Wild and Scenic River since 1975. The Ohio Department of Natural Resources has since estimated that roughly 7.5 miles of waterways were impacted and has reported finding 3,500 dead fish in the days following the incident [20] and West Virginia American Water has announced plans to install a secondary water intake along the Guyandotte River in case it needs to switch sources away from its Ohio River intake due to the East Palestine incident. On February 15, the company announced that it would proceed with the switch to new intake out of an "abundance of caution" for its Huntington residents after the chemical butyl acrylate was detected in low levels in the Ohio River [17]. On February 17, the City of Cincinnati announced it would close the water intake along the Ohio River operated by the Greater Cincinnati Water Works (GCWW) "out of an abundance of caution" [33]. This came after Governor DeWine's office announced on February 16 that a chemical plume containing butyl acrylate was traveling down the Ohio River from the site of the derailment and had reached the area near Gallipolis, Ohio [12].
Despite reassurances about chemical levels in both air and water, residents in the region have concerns about both short and long-term health effects and finding consistent peer-reviewed medical answers about these effects has been difficult. On February 15, hundreds of residents attended a town hall in a local school gymnasium to try and get answers from officials [30]. Attendees reported more dead fish turning up near their homes, acrid chemical smells lingering in the air, and rashes appearing on their children's bodies. Social media posts, including one by U.S. Senator JD Vance, shared videos and images of rainbow chemical slicks that could be stirred up by disturbing the surface of creeks nearby East Palestine. A February 8 update from the EPA confirmed that "oily product was found leaking from a tank car and pooling on to the soil. Norfolk Southern was notified of the spill and began removing the product using a vacuum truck" [33]. 
Norfolk Southern has since announced that it will pay the costs for the full clean-up and its CEO Alan H. Shaw declared that the railroad company would "do the right things to help East Palestine recover and thrive again", despite only initially offering the town of East Palestine $25,000 (just over $5 per resident, based on author calculations using 2020 US Census population data). [25, 26]. As of February 14, Norfolk Southern had also offered affected residents in the East Palestine area $1,000 "inconvenience" checks. The railroad company claims that residents will not waive their right to future claims via litigation by accepting these checks, but a local attorney is advising his clients otherwise, adding to the confusion residents are sorting through in the aftermath of the disaster [38]. As of February 21, President Biden nor Department of Transportation Secretary Pete Buttigieg had traveled to the region, sparking backlash that the federal government was not paying enough attention to the disaster.. Secretary Buttigieg announced on February 22 that he would travel to East Palestine on Thursday, February 23 [9].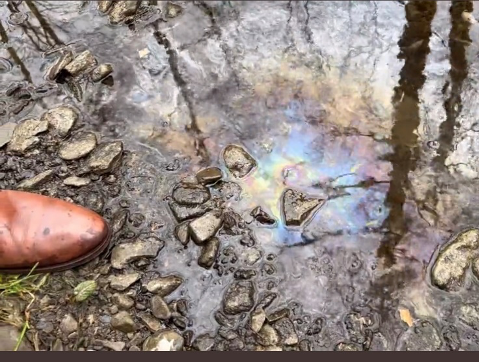 Photo: @JDVance1 posting on February 16, 2023 at Leslie Run. Twitter.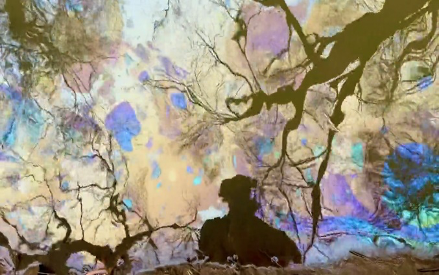 Photo: @RyanBretonWX reposting an image captured on February 16, 2023 at a creek near East Palestine, Ohio. Twitter.
Fueling frustration among residents was the fact that mere hours before it was scheduled to begin, Norfolk Southern announced that it would not attend the town hall, citing concerns about the physical safety of their representatives. The local officials that did attend encouraged residents to continue drinking bottled water as testing continues for private wells, other municipal water sources, and local streams even though the testing conducted privately by Norfolk Southern did not detect the chemicals in the five wells that serve the East Palestine municipal water system [13]. Residents expressed having had trouble in accessing those private well tests in a timely manner and ultimately many felt that the town hall created more questions than answers. 
Norfolk Southern CEO Alan Shaw did appear and take questions from several residents of East Palestine at a CNN televised town hall event on February 22 – nineteen days after the disaster. Major points of contention for the residents were the leakage of chemicals, including oil, on-board the train into the soil. Norfolk Southern announced on February 22 that it would proceed with a complete replacement of track and removal of the contaminated soil underneath [27]. Residents at the town hall expressed a variety of concerns related to health, with one local resident noting that her son had been getting bloody noses since returning to their home near the crash site [14]. Other residents expressed frustration with Norfolk Southern, noting the immense negative impact on small businesses in the area and home values. Jim Stewart, a life-long resident of the area asked Mr. Shaw directly "Did you shorten my life, now? I want to retire and enjoy it. How are we gonna enjoy it?" [14]. Residents also raised questions about the safety regulations and perceived delays in action surrounding the crash, noting that the train had caught fire miles before reaching the eventual crash site in East Palestine. Mr. Shaw declined to comment on the safety procedures and crash details multiple times, citing the ongoing National Transportation Safety Board (NTSB) investigation.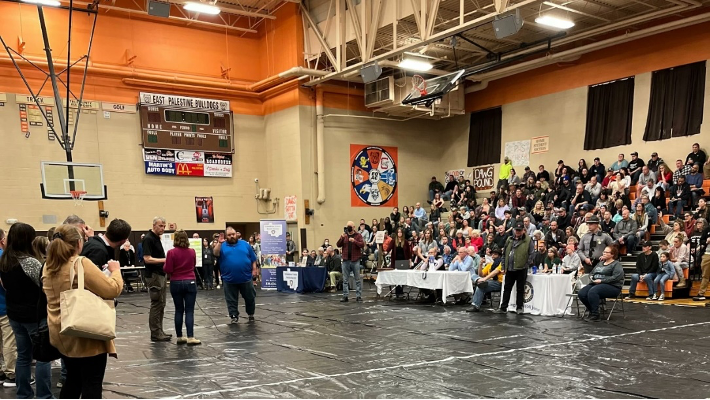 Photo: An image of the East Palestine town hall taken by @JoeDonatelli, News 5 Cleveland. Twitter.
Here's how the derailment crisis has unfolded:
East Palestine Timeline Infographic (1)

Does scientific evidence support claims that the chemicals on-board the derailed train are hazardous to health?
One of the major challenges of the disaster so far has been the difficulty in publicly and transparently presenting clear scientific evidence around the health risks of the chemicals released by the derailment. Here, we provide a brief overview of the two most concerning chemicals disclosed by Norfolk Southern to have been onboard the derailed train: vinyl chloride and butyl acrylate. Both chemicals are volatile organic compounds (VOCs) used in a multitude of plastics and industrial processes.
Vinyl Chloride
Vinyl chloride is a colorless gas with a mild and sweet odor that burns easily and is not stable at high temperatures, meaning it is explosive. When it burns it produces hydrogen chloride and phosgene gas, which has been utilized as a chemical weapon in warfare. Phosgene can react with water in the air to form hydrochloric acid and carbon dioxide. In low concentrations it is an irritant to the skin, eyes, and respiratory tract while high concentrations can produce severe pulmonary complications including pulmonary edema and bronchoconstriction [16]. Phosgene gas and hydrogen chloride were predominately risks during the controlled burn conducted by Norfolk Southern and, as the EPA noted, "after the fire was extinguished on Feb. 8, the threat of vinyl chloride fire producing phosgene and hydrogen chloride no longer exists" [36].
Vinyl chloride does not occur naturally and is used in the production of polyvinyl chloride (PVC) – a plastic many people around the globe are familiar with. It is classified by the US Center for Disease Control (CDC) as a carcinogen [6]. A carcinogen is a substance that is known to cause cancer in humans and is labeled formally by the Report on Carcinogens. This report is mandated by Congress and is a science-based public health report that provides a comprehensive list of known and reasonably anticipated cancer-causing agents. Since 2012, a substance has been listed in the report after an extensive review of publicly available relevant cancer studies, including different types of studies, draws a conclusion about whether a substance is a cancer hazard [37]. Medical studies focused on workers involved in the production of PVC have found that vinyl chloride is associated with an unusual type of hepatic fibrosis and angiosarcoma (a type of cancer) of the liver [2]. The CDC also notes that "the lowest levels [of vinyl chloride] that produce liver changes, nerve damage, and alterations in immunity in people are not known" [6]. The EPA has set a maximum contaminant level of 2 parts per billion (ppb) but noted as early as 1980 that "for maximum protection of human health from potential carcinogenic effects due to exposure to vinyl chloride through ingestion of contaminated water and contaminated aquatic organisms, the ambient water concentrations should be zero based on the non-threshold assumption for this chemical" [35].
Vinyl chloride breaks down in air within a few days and evaporates from soil and water rapidly if it is near the surface. In the East Palestine accident, there is concern that some of the chemicals have not remained near the surface and have accumulated deeper in soil or in river beds. If vinyl chloride levels rise to about 2 ppb in drinking water sources, it is advised by health agencies that residents avoid drinking or cooking with the water, which has the potential to release the volatile compound into the air [16]. If necessary, the State of Illinois recommends not cooking with contaminated water and drinking bottled water to avoid exposure.
Butyl Acrylate
The other major chemical released by the derailment in East Palestine is butyl acrylate, which the CDC describes as a flammable, clear, and colorless liquid with a sharp odor that is not acutely toxic [5]. Butyl acrylate is of particular concern, however, because it has been directly detected in waterways after the accident, including in the Ohio River which provides water to 3 million Americans [31]. The long-term health effects of ingestion through contaminated water are less clear. Although butyl acrylate is not classified as a carcinogen,  repeated exposure to the chemical can cause repeated lung damage and short term exposure can cause irritation to the nose, throat, and lungs as well as headaches, dizziness, and vomiting [24]. While airborne exposure thresholds have been determined for butyl acrylate in the workplace to be 10 parts per million (ppm) averaged over a 10 hour shift "oral ingestion is not an anticipated route of exposure" that has been extensively studied [23].  The Agency for Toxic Substances and Disease Registry (ATSDR) issued a provisional health guidance bulletin establishing that butyl acrylate can start having negative health effects at 560 ppb—a number widely referenced by officials after the derailment as the threshold at which the public should become concerned. However, the bulletin is not clearly posted on the agency's website nor is it clear how the level was determined [18]. The CDC and ATSDR environmental social media accounts have not posted about butyl acrylate to date.
Have air and water testing shown dangerous levels of contamination?
 The highest measurements for airborne contaminants have appeared when comparing the pre-controlled burn data to the post-controlled burn data captured by the EPA's roaming air monitoring detectors at locations near East Palestine shown below. These data were collected from February 4-6 and February 6-7 respectively, with Norfolk Southern conducting the burn on February 6. The post burn results generally indicate levels of HCl and volatile organic compounds (VOCs) that were elevated but did not exceed screening levels. The levels for both particles of 2.5 micrometers and smaller (PM2.5) and particles of 10 micrometers and smaller (PM10) did exceed screening levels at multiple locations. Air data from February 7 to February 8— when the evacuation order ended—showed lower but still elevated levels of unspecified PM2.5 and PM10 relative to the pre-burn air data–particularly of PM2.5 which exceeded its screening level at multiple locations. Recent data does not detect hydrogen chloride of phosgene gas, the two major harmful byproducts of burning vinyl chloride.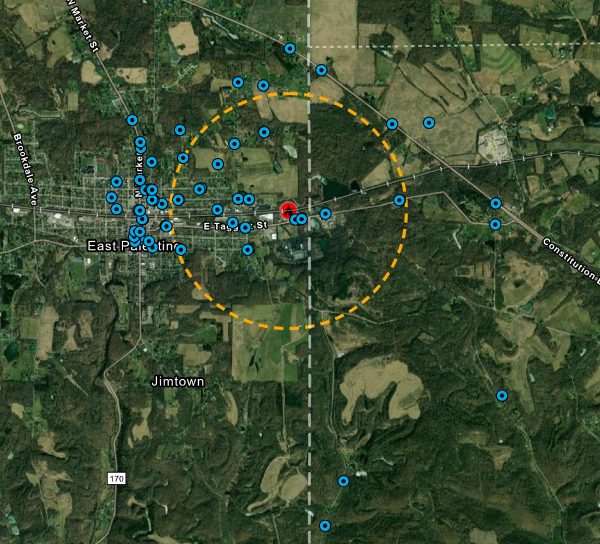 Source: EPA Air Monitoring Reports for East Palestine
On February 16 the head of the US EPA visited the area for the first time and noted that EPA testing of air in residential homes "has not detected any levels of health concerns in the community that are attributable to the train derailment" [39]. As of February 17, the EPA had assisted with indoor air monitoring of more than 500 homes, detecting no vinyl chloride or hydrogen chloride above levels of concern [36]. The EPA update also stated that 38 private wells had been tested as of February 17 with 9 more scheduled. 
Butyl acrylate has been detected in the Ohio River, according to sampling data from the Ohio River Valley Water Sanitation Commission (ORSANCO) [28]. A map of sites that have tested positive (>1.00 ppb) for butyl acrylate along the Ohio River between February 8, 2023 and February 13, 2023 is shown below. These levels are below the 560 ppb guidance set by ATSDR but those guidelines are provisional and no underlying extensive study of the long-term health effects of butyl acrylate in drinking water could be located in the course of our research.  Additionally, as we noted, despite detected levels being below the 560 ppb guidance, multiple large municipal water facilities including the City of Cincinnati have turned off their intakes from the Ohio River while the plume of butyl acrylate moves down river. This is a precautionary step to safeguard resident health given uncertainty but it also sends a contradictory message to the EPA and state officials' claims that the drinking water is safe based on test results. We have no reason to doubt the EPA's guidance at face value, but disjointed decisions by different water districts with no clear guidance about intake changes further contribute to public mistrust of test results published by the government.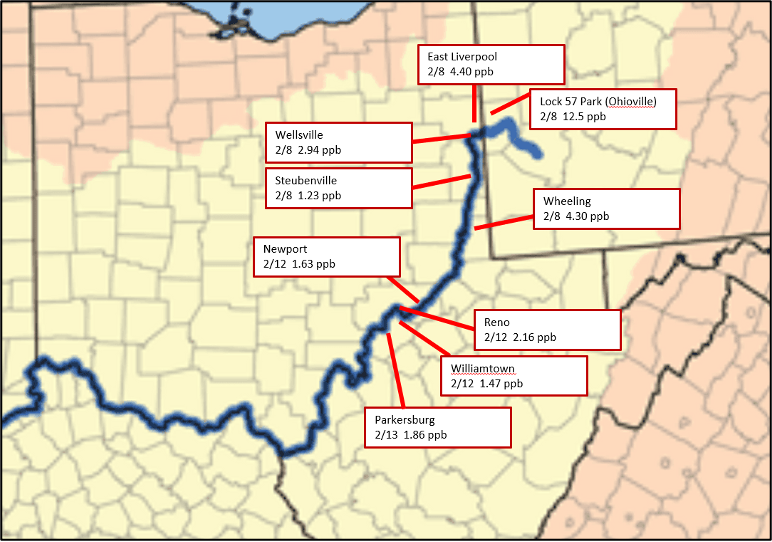 Source: ORSANCO testing data
The Role of Deregulation in Causing the East Palestine Derailment
 An important question on resident and policymaker minds alike is how an environmental disaster like the East Palestine derailment can be prevented in the future. In the aftermath of the derailment some officials have scrutinized the brake technology on the freight train. In 2007, Norfolk Southern was the first railroad operator in the country to boast about its use of electronically controlled pneumatic (ECP) brakes [40]. Traditional railroad brake systems work to stop cars sequentially along an entire train but ECP brakes work simultaneously on all cars. The net effect is that the distance required and time needed for a train to stop is dramatically reduced, which can prevent derailing cars when a rapid stop is needed.
In 2015, the Obama administration's Federal Railroad Administration (FRA) released a new safety rule that required trains carrying oil and other hazardous materials to be equipped with ECP brake systems [21]. This rule was rolled back in 2018 by the Trump administration. At the time, the Trump Department of Transportation justified the decision saying that they "determined that the expected benefits, including safety benefits, of implementing ECP brake system requirements do not exceed the associated costs of equipping tank cars with ECP brake systems, and therefore are not economically justified" [4]. Later, it was revealed that this cost-benefit analysis of ECP brakes that the Trump administration used to justify the rollback was based on the omission of $117 million in anticipated future costs of derailments similar to the one in East Palestine. At the time, US Senator Jeff Merkley said that "The omission of $117 million from the rule's anticipated benefits is further proof that the Trump administration is willing to cut corners to put industry profits ahead of the American people's safety" [3]. In 2017, Norfolk Southern itself fought back an attempt by shareholders to require its executives to conduct a review of and mitigate the risks of its hazardous material transportation. Shortly after the East Palestine derailment on February 3, another Norfolk Southern train that was not carrying hazardous materials also derailed on February 16, 2023 in Van Buren township in Michigan.
Given the unknown short and long-term health impact and the widespread cost of the East Palestine derailment cleanup, federal lawmakers, including Senators Sherrod Brown and JD Vance, have called for a full federal investigation into the incident, its causes, and for closely monitoring Norfolk Southern's remediation progress. This review should examine the role that equipment and loose staffing and labor safety regulations played in the accident and how future derailments can be prevented. Governor Mike DeWine has also called for a full explanation as to why the train was not classified as having carried hazardous materials. 
The Preliminary Results from the National Transportation Safety Board
On February 23, 2023, the National Transportation Safety Board (NTSB) released its preliminary report about the derailment in East Palestine. The report details the rising temperature of the bearings in one train car and the subsequent actions taken by the crew. NTSB notes that on the Fort Wayne Line of the Keystone Division has been equipped with hot bearing detectors (HBD), which assess the temperature conditions of wheel bearings of moving trains and send an audible alert to crews if temperatures are too high. The NTSB report confirms that the train in question, 32N, was operating with a traditional dynamic brake system, advocated for by railroads,  and not an ECP brake system, which some experts believe is much safer and would have been required for the train in question under the 2015 Obama-era rule [29].
The derailed Norfolk Southern train passed three HBD detectors on its trip before derailing. The first alarm came at milepost (MP) 79.9, when the 23rd car was 38°F above ambient temperature. Norfolk Southern has an established threshold for warm bearings, with 170°F-200°F above ambient temperature being classified as non-critical. Roughly ten miles later, the next HBD detector recorded a temperature of 103°F above ambient temperature. The final HBD detector to signal before the derailment occurred at milepost 49.81 – just outside of East Palestine–and recorded a temperature of 253°F above ambient temperature on the wheel bearing of the 23rd rail car. This exceeded Norfolk Southern's threshold for critical bearing temperature, at which point the crew increased the dynamic brake application. The train was brought to a stop and when the crew saw smoke and fire, they notified the Cleveland East dispatcher of a possible derailment.
Initial fires were mitigated on February 5, but authorities remained worried about the five derailed cars containing 115,580 gallons of vinyl chloride. The ensuing evacuation orders were given and NTSB documents that the controlled venting of the vinyl chloride began around 4:40 pm on February 6 and lasted for several hours. The preliminary report notes that as part of the venting, ditches were dug out to contain released vinyl chloride liquid as it burned and vaporized.  NTSB investigators have since investigated and documented the track, the bearings in question from the 23rd car, and the fittings and relief valves of the hazardous chemical cars. These will be further investigated along with Norfolk Southern's accident response and use of detectors, railcar design, the use of the emergency detector systems , and the venting of the vinyl chloride. NTSB notes that it is not involved in the environmental testing of the air and water after the derailment.  
References
[1] Arcadis U.S. Inc. 2023. "Remedial Action Work Plan." Official memorandum. February 10. Bluefield, VA. https://www.scribd.com/document/625600118/East-Palestine-Remedial-Action-Work-Plan#
[2] Berk, Paul D.. 1976. "Vinyl Chloride-Associated Liver Disease." Annals of Internal Medicine 84 (6): 717. doi:10.7326/0003-4819-84-6-717. 
[3] Brown, Matthew. 2018. "U.S. miscalculated benefit of better train brakes." AP News. December 20. https://apnews.com/article/wv-state-wire-north-america-donald-trump-us-news-ap-top-news-2e91c7211b4947de8837ebeda53080b9
[4] Cama, Timothy. 2018. "Trump officials roll back Obama oil train safety rule." The Hill. September 24. https://thehill.com/policy/energy-environment/408125-trump-admin-rolls-back-obama-oil-train-safety-rule/
[5] Center for Disease Control and Prevention. 1992. "Occupational Safety and Health Guideline for Butyl Acrylate." Washington, D.C. https://www.cdc.gov/niosh/docs/81-123/pdfs/0075.pdf?id=10.26616/NIOSHPUB81123
[6] Center for Disease Control and Prevention. 2023. "Vinyl Chloride – ToxFAQs". https://www.atsdr.cdc.gov/toxfaqs/tfacts20.pdf
[7] Cochrane, Emily. 2023. "Many in East Palestine, Skeptical of Official Tests, Seek Out Their Own." The New York Times. February 19. https://www.nytimes.com/2023/02/19/us/politics/east-palestine-toxic-chemicals-epa.html
[8] D'Angelo, Chris. 2023. "Water testing after Ohio train derailment – led by railroad itself – condemned as 'sloppy'". The Huffington Post. February 18. https://www.huffpost.com/entry/ohio-train-disaster-water-sampling_n_63ef034be4b022eb3e35e585
[9] Gangitano, Alex. 2023. "Buttigieg to travel to East Palesetine on Thursday amid criticism Biden administration isn't doing enough." The Hill. February 22. https://thehill.com/homenews/administration/3869445-buttigieg-to-travel-to-east-palestine-on-thursday-amid-criticism-biden-administration-isnt-doing-enough/
[10] Governor of the State of Ohio. 2023. "East Palestine Update: Evacuation Area Extended, Controlled Release of Rail Car Contents Planned for 3:30pm." Press Release. February 6. https://governor.ohio.gov/media/news-and-media/east-palestine-update-evacuation-area-extended-controlled-release-of-rail-car-contents-planned-for-3-30-pm-02062023
[11] Governor of the State of Ohio. 2023. "East Palestine Water Quality Update." Press Release. February 15. https://governor.ohio.gov/media/news-and-media/east-palestine-water-quality-update-2152023
[12] Governor of the State of Ohio. 2023. "East Palestine Update – 2/16/23 – 1:15pm." Press Release. February 16. https://governor.ohio.gov/media/news-and-media/east-palestine-update-2-16-23+-1-15-pm-02162023
[13] Governor of the State of Pennsylvania. 2023. "East Palestine Update: Residents Can Safely Return Home." Press Release. February 8. https://www.governor.pa.gov/newsroom/east-palestine-update-residents-can-safely-return-home/
[14] Hammond, Elise, Tori B. Powell and Amir Vera. 2023. "CNN town hall on toxic train disaster in East Palestine, Ohio." CNN. February 23. https://www.cnn.com/us/live-news/east-palestine-ohio-train-disaster-2-22-23/index.html
[15] Hantson, Ph., F.J. Baud, and R. Garnier. 1996. "Toxic Gases." Human Toxicology, 661–69. doi:10.1016/b978-044481557-6/50028-9. 
[16] The Illinois Department of Public Health. 2012. "Vinyl Chloride in Groundwater." Fact Sheet. Springfield, IL. http://www.idph.state.il.us/envhealth/factsheets/vinyl-chloride.htm 
[17] Jenkins, Jeff. 2023. "West Virginia American Water now using Guyandotte intake for Huntingon customers." Metro News. February 15. https://wvmetronews.com/2023/02/15/west-virginia-american-water-now-using-guyandotte-intake-for-huntington-customers/
[18] Knight, Cameron. 2023. "East Palestine train derailment, is Cincinnati's water safe to drink?" The Cincinnati Enquirer.  February 16. https://www.yahoo.com/entertainment/east-palestine-train-derailment-cincinnatis-193413879.html
 [19] Knight, Cameron. 2023. "Gov. Mike DeWine: Ohio River is safe as water from East Palestine approaches Cincinnati." The Cincinnati Enquirer. February 17. https://www.cincinnati.com/story/news/2023/02/17/dewine-says-ohio-river-is-safe-as-water-from-east-palestine-comes-to-cincinnati/69914949007/
 [20] Lagatta, Eric. 2023. "Thousands of fish found dead days after Ohio train derailment, toxic spill in East Palestine." The Columbus Dispatch. February 14. https://www.dispatch.com/story/news/environment/2023/02/14/thousands-of-fish-found-dead-after-train-derailment-in-east-palestine/69902454007/
[21] Morgan, David. 2015. "U.S. sets new final rule on oil, ethanol trains." Reuters. July 29. https://www.reuters.com/article/us-usa-oil-trains/u-s-sets-new-final-rule-on-oil-ethanol-trains-idUSKCN0Q32G720150729
[22]  Morgan, Tara. 2023. "Some residents in East Palestine worry about health after experiencing headaches, dizziness." News5Cleveland. February 14. https://www.news5cleveland.com/news/east-palestine-train-derailment/some-in-east-palestine-worry-about-health-after-experiencing-respiratory-symptoms
[23] Murphy, S.R. and Davies, J.H., 1993. Butyl acrylate health effects overview (pp. 83-100). Boca Raton, Fla.: CRC Press.
[24] New Jersey Department of Public Health. 2017. "Hazardous Substance Fact Sheet: Butyl acrylate." https://www.nj.gov/health/eoh/rtkweb/documents/fs/0278.pdf
[25] Newman, Jeremy. 2023. "Norfolk Southern offers 25,000 to East Palestine after potentially deadly train crash." The Scioto Post. February 13. https://www.sciotopost.com/norfolk-southern-offers-25000-to-east-palestine-for-potentially-deadly-train-crash/
[26] Norfolk Southern Corporation. 2023. "Alan Shaw meets with East Palestine Community." PR NewsWire. Press Release. February 18. https://www.wsj.com/articles/alan-shaw-meets-with-east-palestine-community-f0f6674e
[27] Norfolk Southern Corporation. 2023. "Norfolk Southern announces East Palestine track excavation and remediation plan." Press Release. February 22. https://www.prnewswire.com/news-releases/norfolk-southern-announces-east-palestine-track-excavation-and-remediation-plan-301753864.html
[28] Ohio River Valley Water Sanitation Commission. 2023. "East Palestine Ohio Train Derailment Spill Response." https://www.orsanco.org/east-palestine-train-derailment-spill-response/
[29] Rish, John. 2017. "Editorial: 'For rail safety's sake: ECP brake technology a must." SMART Transportation Division. March 28. https://smart-union.org/editorial-rail-safetys-sake-ecp-brake-technology-must/
[30] Robertson, Campbell and Emily Cochrane. 2023. "We're Scared, Too: Ohio Residents Press for Answers on Train Derailment at Meeting." The New York Times. February 15. https://www.nytimes.com/2023/02/15/us/ohio-train-derailment-town-hall.html
[31] SaveLocalWaters.org. 2023. "The Ohio River Watershed." Cincinnati, OH, https://www.savelocalwaters.org/ohio-river-watershed.html#:~:text=More%20than%2025%20million%20people,in%20the%20Ohio%20River%20Watershed.
[32] Simeon, Chelsea, C. Aileen Blaine, Kristen McFarland, and Stan Boney. "Derailed train wasn't classified as highly hazardous, DeWine says." WKBN First News. February 15, 2023. https://www.wkbn.com/news/local-news/east-palestine-train-derailment/dewine-to-again-speak-on-east-palestine-train-derailment/
[33] The City of Cincinnati. 2023. "City of Cincinnati to Close Water Intake at GCWW." Press Release. Cincinnati, OH. https://www.cincinnati-oh.gov/cityofcincinnati/news/city-to-close-water-intake-feb2023/
[34] The Ohio Environmental Protection Agency. 2023. "East Palestine Train Derailment Information." Webpage. https://epa.ohio.gov/monitor-pollution/pollution-issues/east-palestine
[35] The U.S. Environmental Protection Agency Office of Water Regulations and Standards Criteria and Standards Division. 1980. "Ambient Water Quality Criteria for Vinyl Chloride." Washington, D.C. October. https://www.epa.gov/sites/default/files/2019-03/documents/ambient-wqc-vinylchloride-1980.pdf
[36] The U.S. Environmental Protection Agency On Scene Coordinator. 2023. "East Palestine Train Derailment." Washington, D.C. https://response.epa.gov/site/site_profile.aspx?site_id=15933 
[37] U.S. Department of Health and Human Services. 2023. "Cancer Health Effects." Washington, D.C. https://ntp.niehs.nih.gov/whatwestudy/assessments/cancer/index.html
[38] Vogrin, Guy. 2023. "Railroad offering inconvenience compensation." The Times Leader. February 21. https://www.timesleaderonline.com/news/ohio-news/2023/02/railroad-offering-inconvenience-compensation/
 [39] Wodzack, Sophie, Emily Cochrane, and Lisa Friedman. 2023. "Federal Officials Send Help After Ohio Derailment, but Residents' Frustrations Persist." New York Times. February 16. https://www.nytimes.com/2023/02/16/us/politics/east-palestine-ohio-train-chemicals-fema.html
[40] Wornell, Tyler. 2023. "ECP brakes: Could technology have mitigated Ohio derailment?" NewsNation. February 16. https://www.newsnationnow.com/us-news/infrastructure/ecp-brakes-technology-ohio-derailment/