Download report Download summary Download toolkit
By the first quarter of 2020, EQT Corporation, the nation's largest domestic producer of natural gas, was supplying more than 4 billion cubic feet of natural gas per day. Just a decade earlier, EQT's output wasn't even one-tenth as much and the company ranked an undistinguished 25th for output among US producers. But EQT had the good fortune and foresight to base all of its operations in Appalachia, which made it the greatest beneficiary of what turned out to be the world's richest natural gas field. 
In those early days of 2010, when EQT was the scuffling little guy trying to find a place among giants, such as ExxonMobil, the company employed just 1,815 people. But, by 2020, when EQT's production had surpassed that of ExxonMobil and all others, its employee count mushroomed to . . . 624.
Yes, EQT's head count actually declined by nearly two-thirds between 2010 and 2020. In fairness, some of EQT's job reduction was attributable to its spin-off of Equitrans Midstream (EQM) in 2018. But, even if you add EQM's 2020 head count to EQT's, combined employment at the two companies was only 1,395 in 2020, still a quarter smaller than EQT's workforce in 2010.
EQT's tale of skyrocketing output accompanied by a shrinking workforce helps us understand important things about the shale gas industry. It helps explain why, as the Ohio River Valley Institute documented in 2021, the Appalachian natural gas boom failed to deliver what had been expected to be hundreds of thousands of new jobs for the region. And it demonstrates that as the natural gas industry matures, it becomes less jobs-intensive and its already meager contributions to economic development and prosperity become even fewer. The dynamic is simple. As a larger share of output comes from existing wells and fewer new ones are dug and work is completed on the construction of processing plants and pipelines, fewer workers are needed. 
Consequently, if production stagnates and the only need for new wells is to replace those that retire, the economic value of the gas industry to Appalachia may diminish even further. And if the Energy Information Administration is correct in its most recent forecast for domestic natural gas production between now and 2050, that is exactly the scenario Appalachia and its natural gas industry are facing.
According to the EIA's "Annual Energy Outlook 2023", Appalachian natural gas production likely peaked in 2022. Although this year's events may prove that forecast to be incorrect in the short term, the long-term trend is clear. Production is leveling off. Indeed, data show that Appalachian production began to plateau as early as 2019. And, as this report will show, economic outcomes in the 22 counties in Ohio, Pennsylvania, and West Virginia that are responsible for 90% of Appalachian gas production deteriorated even further since 2019, which was the last year examined in ORVI's original study of the Appalachian natural gas boom's economic impacts in the counties where it is concentrated – an area christened "Frackalachia."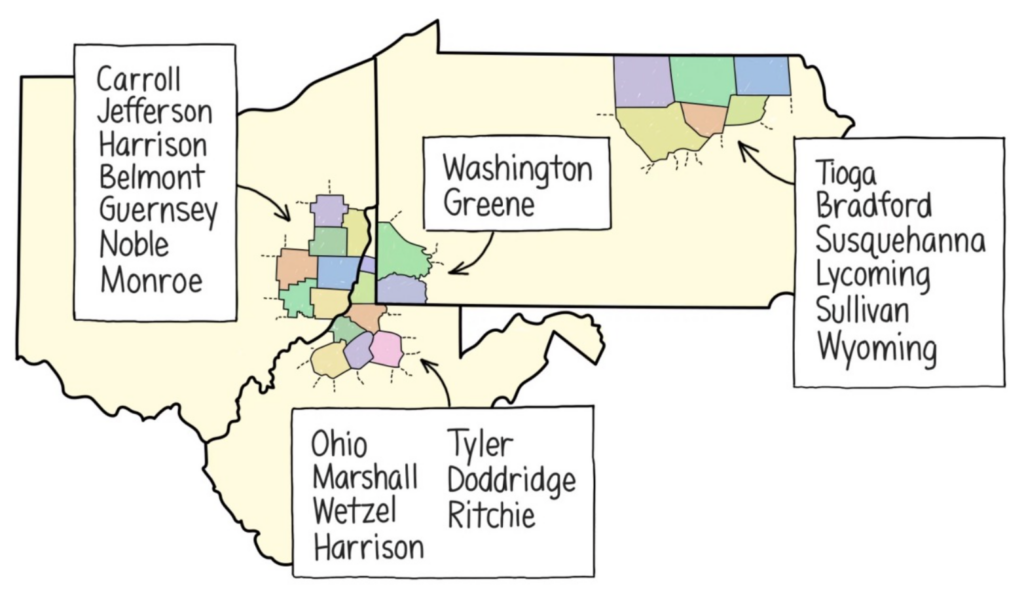 In summary:
Job growth in Frackalachia went from a meager 1.6% gain in jobs since 2008 to a decline of 2.1% and an overall net loss of more than 10,000 jobs.

Income growth fell further behind both the nation and also the combined states of Ohio, Pennsylvania and West Virginia.

Population loss worsened, from a decline of 3.8% in 2019 to 4.8% in 2021, nearly 47,000 people in all.
These findings present a unique and troubling challenge to policymakers in the northern Appalachian region and to all of us who care about the economic wellbeing of a place that has suffered mightily since the collapse of the steel industry in the 1980s. Development or redevelopment strategies were first focused on trying to cling to the industries that for a century had been the drivers of jobs and commerce in the region. But, when that approach failed and all others as well, the natural gas boom and downstream industries, including petrochemicals and plastics manufacturing to which it was expected to give rise, became saviors in the eyes of the region's policymakers – a belief that was greatly encouraged by the gas industry, which provided relentlessly sunny economic impact studies predicting the creation of hundreds of thousands of jobs.
This report, its predecessors, and struggling downtowns in communities throughout Frackalachia provide overwhelming evidence that the predictions weren't only wrong, they were the products of deeply flawed and biased analyses and, more importantly, the reasons why the natural gas boom and its offspring – a second US petrochemical hub and a third natural gas liquids storage hub – failed to deliver on promises of economic prosperity are structural in nature, meaning they are not going to change.
Sadly, the same is likely to be true of the most recent shiny object being dangled in front of the region's policymakers – the promised creation of an Appalachian hydrogen hub, which would be heavily subsidized by the federal government. The proposed hydrogen hub suffers from the same shortcomings as its predecessors. First, like the once imagined but unrealized Appalachian petrochemical hub, it is unlikely to come to fruition in anything but a highly abbreviated form. Second, the expanded hydrogen economy of which it would be a part, while growing to perhaps two or three times its current size, will still not be large enough to induce fundamental economic change in the region. Third, the hydrogen hub, like the petrochemical hub, may not come to fruition at all because private markets may not support it, despite generous federal subsidies. Finally, even if a hydrogen hub is realized, the plants and facilities that would comprise it are, in many respects, like the natural gas industry – highly capital-intensive, not very jobs-intensive, highly polluting, and destructive of quality of life.
That isn't to say that the region doesn't need new industry, including some that might be part of a hydrogen hub. It's to say that policymakers should be realistic about what these industries do and do not offer in the way of economic development as well as the costs they may inflict and the quality of life trade-offs they may require. If policymakers are realistic about these things, they will recognize the need for a more effective and sustainable approach to economic development regardless of whether or not the natural gas industry stagnates or continues to grow, regardless of whether the hydrogen hub is realized, and regardless of whether some small amount of petrochemical development manages to find a foothold. 
In an earlier report, the Ohio River Valley Institute suggested such an approach, called the Centralia Model. The Centralia Model is named for an old coal community and the surrounding micropolitan area in rural, western Washington. Since at least the mid-1990's Centralia's economy has looked much like the economies of counties throughout the greater Ohio Valley region. It was heavily reliant on coal mining and a coal-fired power plant, the former of which closed and the latter is in the process of retiring. And whereas the Ohio Valley suffered from the collapse of the steel industry, Centralia suffered from the collapse of the lumber industry. The result was more than 20 years of zero job growth. Then in 2016 something changed in Centralia.
With $55 million in economic transition funding from the mine's and power plant's owner, the Centralia Coal Transition Grants Board began investing in energy transition – energy efficiency and renewable resources – and education. The result was four years of job growth at twice the national average, wage growth 50% greater than that of the nation, a restored downtown, and a growing population. And, best of all for communities in northern Appalachia, the Centralia model appears to be replicable.
That's critical for a region which has seemingly tried everything else. And pursuing the Centralia Model doesn't conflict with the hydrogen hub, or a petrochemical hub, or even natural gas. It just means that we should stop mistaking the natural gas industry and its assorted hubs for economic development strategies because they are not. 
This report examines, in the following order:
Peak Appalachian Natural Gas

Coal, Steel, Natural Gas and the Northern Appalachian Economy

The Original Frackalachia Report: Jobs, Incomes, and Population, 2008-2019

Frackalachia Update: Jobs, Incomes, and Population Through 2021

Could It All Be A Mistake? Did Natural Gas Deliver and Everything Else Fail?

Hŭbris: The Appalachian Storage Hub, Petrochemical Hub, and Hydrogen Hub

The Centralia Model & Other Economic Development Measures

Taking Action