During the third week in March, I had the opportunity to travel to southeastern Louisiana to take part in several events sponsored by True Transition, a new group working to build a brighter future for oil and gas workers and communities across the country. For over a year, I have had the honor of serving on the board of True Transition and this was my first opportunity to take part in several events, including a roundtable discussion focused on workers in the oil and gas industry in Louisiana and the release of the first national survey of American oil and gas workers. The trip also included a tour of orphaned wells (and dredging) around Lake Boudreaux in Terrebonne Parish and the Avondale Shipyard in New Orleans where Gulf Wind Technology is located.

First, a little more about True Transition. True Transition has two primary missions. First, to ensure energy workers have a seat at the table to create a brighter future. Second, to pass policies that create the jobs and conditions of the energy transition, including good pay, safe working conditions, and stronger communities. 
Megan Milliken Biven, who I often refer to as the godmother of the movement to address abandoned and orphaned wells, is the founder of True Transition and has worked for years on oil and gas related issues inside and outside of government. A couple of years back, Megan put forth the best proposal I know of—The Abandoned Well Act—on how to deal with the nation's more than 3 million abandoned and orphaned wells while creating thousands of good jobs in the public sector. Megan has also published a detailed report on how to eliminate orphan wells in Texas and developed proposals to revive a public dredge fleet to protect coastal communities and the creation of a water workforce to create thousands of good paying jobs. 
Along with Megan, Leo Lindner is the only other staff person at True Transition. Leo is a former "mud engineer" who worked in the oilfield for 10 years, five of which were on the Deepwater Horizon until the night of the Macondo blowout in 2010. Leo is an organizer for True Transition, and he is based out of southeastern Louisiana. To hear more about Leo's story, check out this working people podcast from last year. 
In addition to myself, Leo, and Megan, Michael Esealuka is on the board of True Transition. Michael has been an organizer on climate and labor issues for more than a decade.  Michael currently works at Healthy Gulf in New Orleans. Be sure to check out Michael's cogent piece in The Nation on "Trying to Keep the Roof on in Louisiana's Cancer Alley."
Could Offshore Wind Take Off in the Gulf? 
While there are only two offshore wind farms currently operating in the United States, Louisiana's climate action plan aims to create 5 gigawatts (GW) of offshore wind power generation by 2035 (enough to power 1.7 million homes). This could require anywhere from 300 to 650 large wind turbine generators. The Biden administration has set a goal of developing 30GW of offshore wind by 2030, which they say will create and support over 44,000 jobs. The US Department of Energy has estimated that offshore wind could provide more than 2,000GW of energy in the United States, which is twice as much as the entire US electric grid. 
On Tuesday, March 14, True Transition board members toured the Gulf Wind Technology Center in Avondale, Louisiana to explore the movement in the state to build offshore wind in the region. Gulf Wind Technology is a company that specializes in wind turbine rotor technology and has recently received grants from the state of Louisiana and Shell to accelerate this work in the Gulf. Below are some pictures from the tour at the historic Avondale Shipyard. The goal is to build on the Gulf of Mexico's existing oil and gas industry infrastructure and skills to develop offshore wind in the region.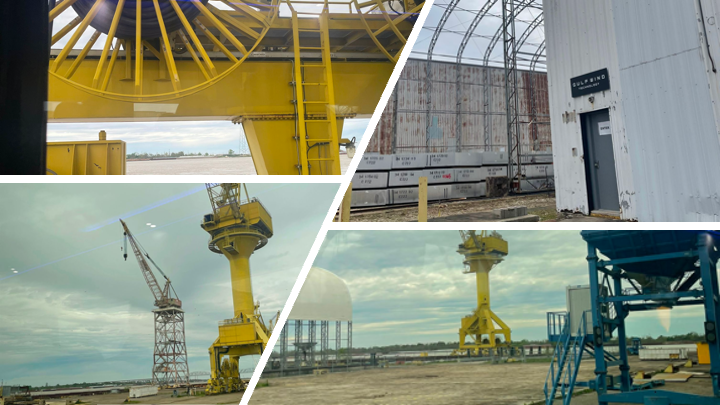 Photo: Avondale Shipyard near New Orleans. Ted Boettner, March 2023.
The federal Bureau of Ocean Energy Management (BOEM) has formally launched a process of mapping potential sites in the Gulf and is now proposing offshore wind lease sales for three proposed areas in the Gulf, including one offshore of the Lake Charles area in southwestern Louisiana. In February of this year, BOEM initiated a 60-day comment period for the Proposed Sale Notice (PNS). This is where True Transition comes in. Upon meeting with partners and workers, True Transition plans to submit comments on how to ensure that offshore wind rules and regulations reflect the needs of workers and communities in the region. Unless they have a seat at the table, it is likely companies will take the low road of paying workers less and upending safety. 
Abandoned Well Hunting with Justin around Lake Boudreaux
On Wednesday, March 15, we met up with Justin Solet, a former oil and gas worker, to take a boat tour of orphaned and abandoned wells near his home in Houma, about an hour's drive from New Orleans. Justin is a member of the United Houma Nation, a state recognized tribe of about 17,000 members in six parishes located along the southeastern coast of Louisiana. 
On the boat tour, we stretched along the area of Lake Boudreaux between Chauvin and Dulac, where we not only viewed the scarred waterways littered with abandoned wells, rusted oil tanks, and pipelines, but we also witnessed the beauty of the area with its abundance of wildlife, including alligators, brown and white pelicans, tree sparrows, raccoons, and the cascading Spanish moss that hung down off trees in the bayou. It was easy to understand why Justin loved the bayou in his backyard and his deep concern for the degradation of its environment.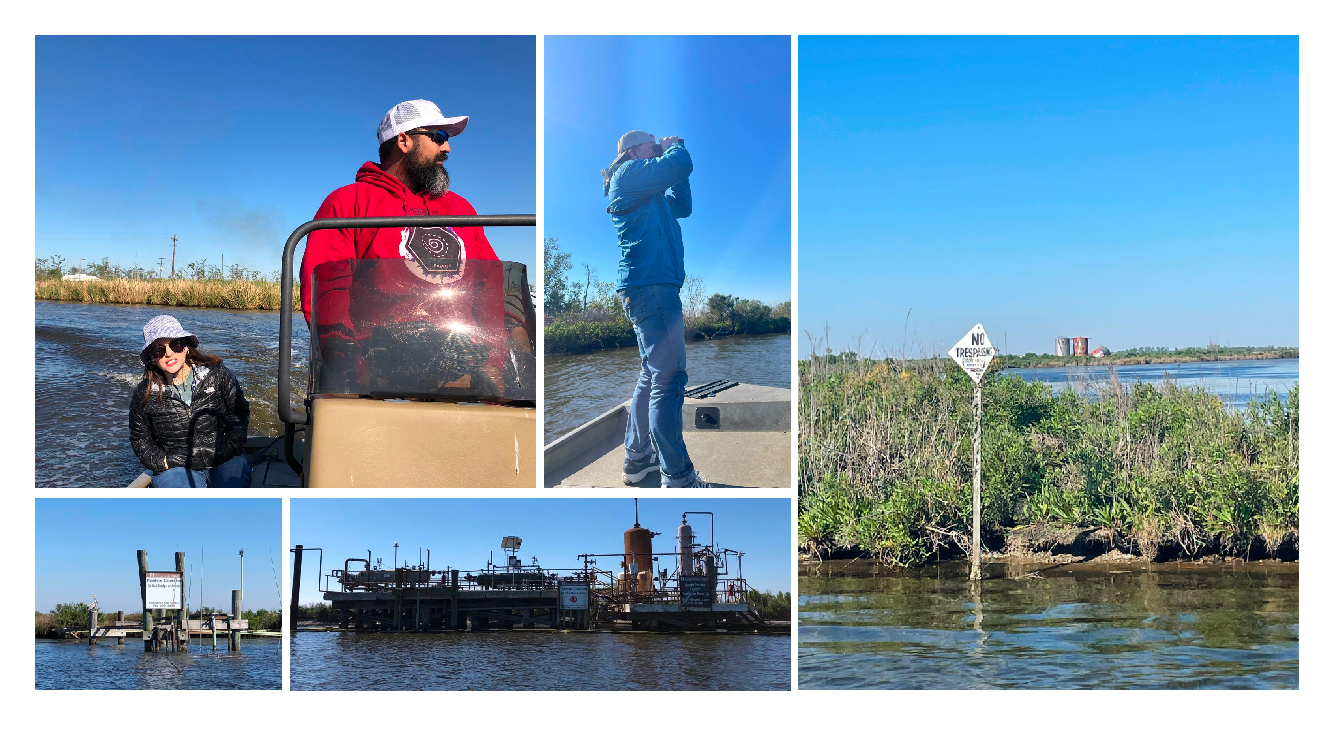 Photo: Megan Millikin Biven, founder of True Transition, Justin Solet, and Ted Boettner with ORVI. Ted Boettner, March 2023.
Louisiana regulators estimated there are over 4,600 orphaned wells in the state. A recent study estimated that the state has about 233,000 plugged and unplugged abandoned wells. These figures do not include other abandoned oil equipment, like tank batteries or oil field waste pits and gathering lines. According to the US Energy Information Administration, there are also about 142,000 active oil and gas wells in the state. Throughout the boat tour, Justin showed us several abandoned well sites and some that were still active. Many of the sites were on private property, so we could not get too close. 
During the tour, I also got my first lesson in how coastal land loss from fluid withdrawal (from oil and gas extraction) and saltwater intrusion (from pipeline canal dredging) have shifted the landscape and waterways in the area Justin calls home. For most of our boat tour, Justin informed us that most of the water we were traveling on was land before Hurricane Ida ripped through the area in 2021 and that most waterways are privately owned and leased to oil operators. There was also a significant amount of dredging taking place in the area in support of Louisiana's State Coastal Master Plan to try and restore these crumbling landscapes. 
Worker Roundtable in Thibodaux and Survey of Oil and Gas Workers Released 
On the morning of Thursday, March 16, Megan picked me up in New Orleans and we headed to Nicholls State University in Thibodaux for True Transition's first public event, "The Future of Work on the Gulf: A Louisiana Oil & Gas Worker Roundtable." The purpose of the event was to hear from Louisiana oil and gas workers about their working conditions, compensation, and the hopes they have for the industry and its future. Megan also presented on the findings of a report True Transition released the following day on a national survey of over 1,600 American oil and gas workers.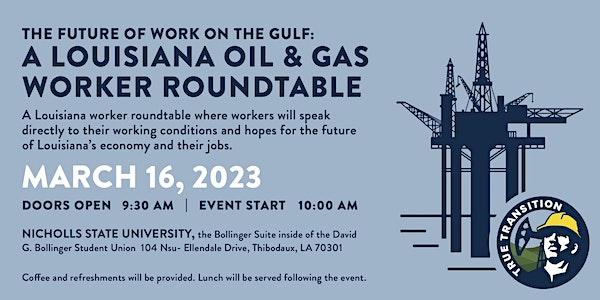 The event unfolded with an opening story from Leo Lindner about working as a "mud engineer" (well control) on offshore rigs and the impact it had on his life, including the tragedy of the Deepwater Horizon explosion, his family life, and the camaraderie he had with his fellow oil and gas workers. You can read more about Leo's story and his reflections of working in the oilfield in this report (p.9). Warning, it may bring you to tears.   
Following Leo, Megan presented the findings from a national survey of 1,635 oil and gas workers across 23 states conducted by True Transition over a six-month period in 2021 and 2022. The results, along with contextual analysis, were officially released the following day. The report, "The Future of Energy & Work in the United States: The American Oil and Gas Worker Survey," found that oil and gas workers across the US are worried about job security, safety, and work conditions. Many respondents expressed mixed views on corporate and government leadership in the energy transition. While workers expressed disparate views on the 38 questions asked in the survey, one thing was clear: they expressed gratitude for the opportunity to express their opinions since it is so rare that oil and gas workers—the ones that do the work—are asked about their working conditions. In essence, this is the hallmark of what True Transition aims to do: provide America's energy workers a voice and a seat at the table. As Megan said at the event, if oil and gas workers want a seat at the table, they must pull up a seat. After all, they are the ones that built the table. You can read recent press coverage of the report here. 
The worker roundtable, which I had the honor of moderating, featured four Louisianians who have worked in the upstream and downstream parts of the oil and gas industry, including on offshore rigs and in petrochemical refineries. The first panelist was Kerry Chiasson, who spent 40 years as a mud engineer (well control),worked for Bariod (Halliburton's drilling fluid company), and now consults for oil field companies. While Kerry had some issues with his working conditions and the time spent away from home, he said that overall he enjoyed working in the industry.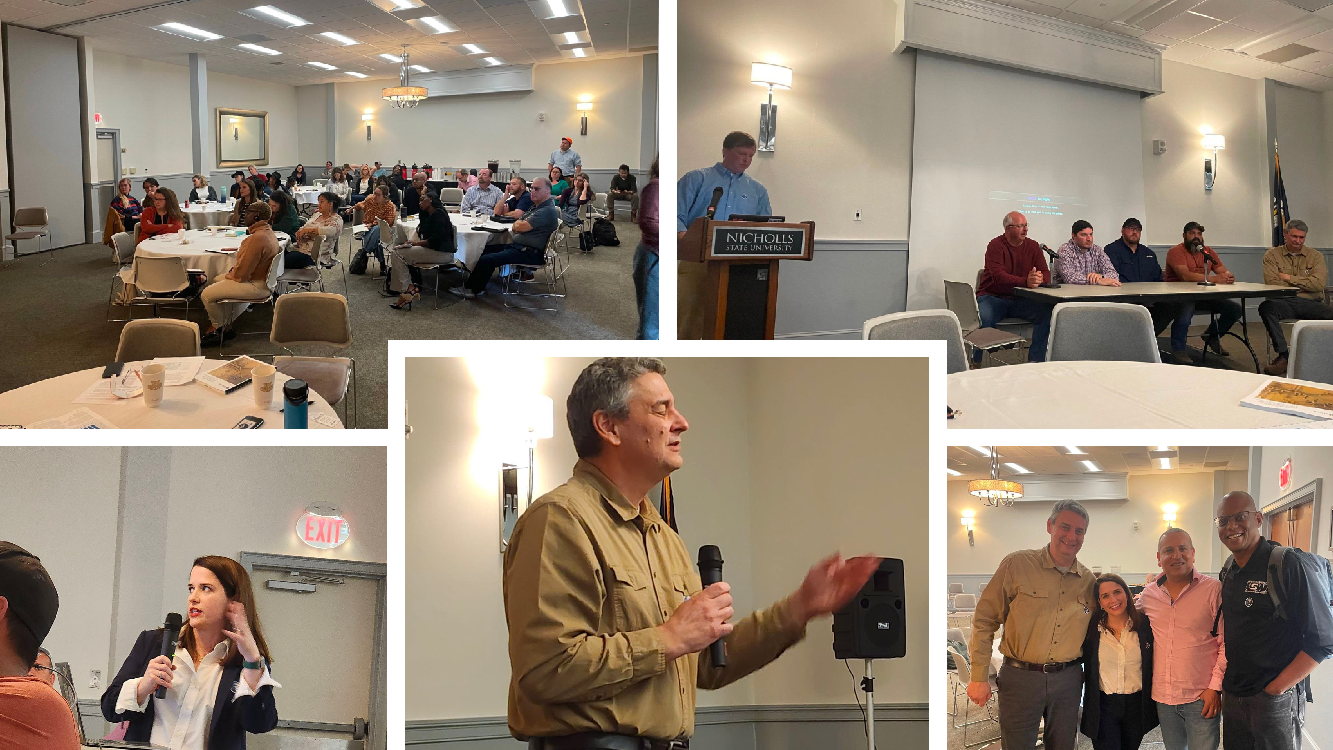 Photo: Leo Lindner (center/panel/lower left), Megan Milliken Biven (lower left & right), Ted Boettner, Kerry Chiasson, Cullen Boudreaux, James Hiatt, and Justin Solet (upper right, panel), and Jose Corpus. Ted Boettner, March 2023.
Cullen Boundreaux, who worked as a carpenter for a contract company that did work in refineries and now manages a restaurant in New Orleans, spoke about how worker safety was often in conflict with profits of the company. Cullen also shared how difficult it could be to get a job in the industry and how layoffs are the norm. He remarked that it is often not what you do or how you do it, but who you know. 
James Hiatt, who said he came from a long line of coal miners in Kentucky and that his dad moved to Lake Charles, Louisiana to work at a refinery, also struggled at his job at a refinery. James started his own organization, For a Better Bayou, to help bring attention to how petrochemical and liquified natural gas (LNG) development is impacting Louisiana. 
The last panelist was Justin Solet, who also gave Megan and me a boat tour of abandoned oil wells near his home. Justin hurt his back in the oilfield and spoke powerfully about how oil companies put profits ahead of workers and communities in the area. 
All the panelists fielded questions from the audience and talked about their hopes for the future of the region. At the conclusion of the event, everyone made their way to a crawfish boil party down the road of Thibodaux. It was my first experience eating crawfish. We laughed, learned more about one another, and got to enjoy a beautiful evening on the bayou.
What's Next for True Transition? 
While the road ahead is arduous for centering workers in the energy transition, True Transition is taking the steps necessary to begin to do its part so that America's energy workers have a seat at the table. As Megan articulated at the roundtable event, "these are the men and women who drill the wells, transport the oil and gas to refineries, and crack that oil and gas into the constituent parts that, to a large degree, make for modern life. We are working to grow True Transition into a membership-led organization where American energy workers lead in solving our nation's most pressing energy, environmental, and economic challenges." 
I am grateful to be part of this new organization. This is just the beginning for True Transition. It will take people, projects, and policy to chart a new course for our energy transition and it is my belief that True Transition will offer a model for how to make this happen by putting energy workers and impacted communities first while building thousands of good-paying jobs across the country.