Last week marked the close of the Clean Energy Ministerial's inaugural Global Clean Energy Action Forum, a three-day conference on accelerating the transition to a clean energy economy. Billed as the "biggest energy event of the year," the forum welcomed more than 6,000 energy leaders representing governments, industries, NGOs, and communities from around the world. 
In a widely-circulated open letter to forum attendees, published as a full-page advertisement in the Sunday edition of the Pittsburgh Post-Gazette, ORVI and nearly a dozen western Pennsylvania elected officials described why it's fitting that the Clean Energy Ministerial chose Pittsburgh, long the heart of American energy and industry, as the host city for the premier energy convergence of 2022.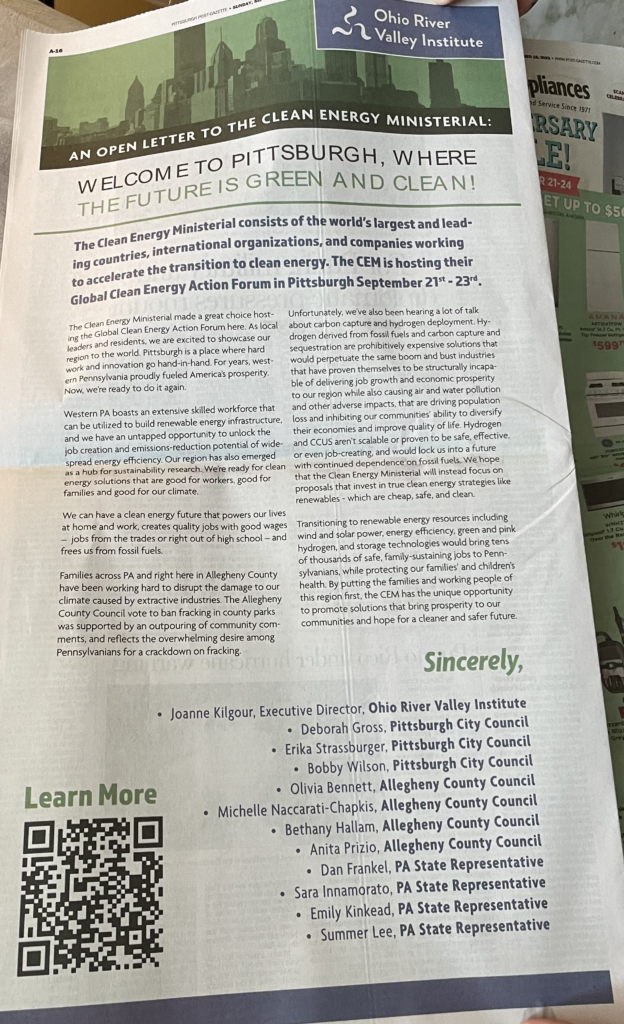 Signers included:
Joanne Kilgour, Executive Director, Ohio River Valley Institute

Deborah Gross, Pittsburgh City Council

Erika Strassburger, Pittsburgh City Council

Bobby Wilson, Pittsburgh City Council

Olivia Bennett, Allegheny County Council

Michelle Naccarati-Chapkis, Allegheny County Council

Bethany Hallam, Allegheny County Council

Anita Prizio, Allegheny County Council

Dan Frankel, PA State Representative

Sara Innamorato, PA State Representative

Emily Kinkead, PA State Representative

Summer Lee, PA State Representative
ORVI's official side event at the forum, "Zero Carbon Resources and Appalachia's Sustainable Finance Hub," co-presented by the University of Pittsburgh and Marshall Plan for Middle America, outlined the labor, leadership, and financing needed to "deploy, deploy, deploy" for economic development in traditionally carbon intensive communities. Nine speakers, including policymakers, industry and labor leaders, energy experts, and community partners, described how zero-carbon resources can minimize cost, maximize emission and pollution reduction, and deliver jobs and opportunity in challenged areas and regions. 
Panelists included:
Jake Pawlak, Deputy Mayor, City of Pittsburgh

Shanti Gamper-Rabindran, Professor, University of Pittsburgh

Joanne Kilgour, Executive Director, Ohio River Valley Institute

Sean O'Leary, Senior Researcher, Ohio River Valley Institute

Amanda Woodrum, Senior Researcher, Policy Matters Ohio

David Wilhelm, CEO, Hecate Global, Chief Strategy Officer, Hecate Energy

Oliver Kroner, Interim Director, Office of Environment and Sustainability, City of Cincinnati

Ed Hill, Jr., International Representative, International Brotherhood of Electrical Workers

Chris Gassman, Senior Associate Director, Center for Sustainable Business, University of Pittsburgh
A Clean Energy Pathway for Western Pennsylvania
As part of the presentation, Executive Director Joanne Kilgour and Senior Researcher Sean O'Leary unveiled preliminary results from a forthcoming decarbonization study conducted by Strategen Consulting. The report describes an energy transition pathway for the ten-county region of Western Pennsylvania, finding that a clean energy pathway would cut costs, reduce climate-warming emissions, and create jobs far more effectively than fossil fuel-based pathways. 
A renewables-based decarbonization pathway is the most economic strategy for economic transition. Rapid deployment of clean energy and energy efficiency retrofits would cost 12% less than a pathway centered around locally sourced fossil fuels and carbon capture technology. The renewables-based pathway will also result in annual benefits of nearly $2.7 billion, higher than those modeled as part of a natural gas and carbon capture pathway, and cut carbon emissions by 94% by 2035 and at least 97% by 2050. 
Transitioning from fossil fuels to clean energy is viable, economical, and necessary for our planet's future, the report finds. The pathway outlines an accelerated retirement of coal- and gas-fired power plants and curbing natural gas for power generation and building usage by at least 98% by 2050. The renewables-based pathway invests heavily in energy efficiency to reduce electricity costs, create jobs, and make the region a healthier, safer place to live. Electrifying transportation and buildings will simultaneously cut the region's carbon emissions significantly. With energy efficiency offsetting a significant share of demand growth that may result from building and transportation electrification, overall load growth by 2050 can be limited to just 33%.
All told, here's how the region's energy mix could evolve from 2021 to 2050: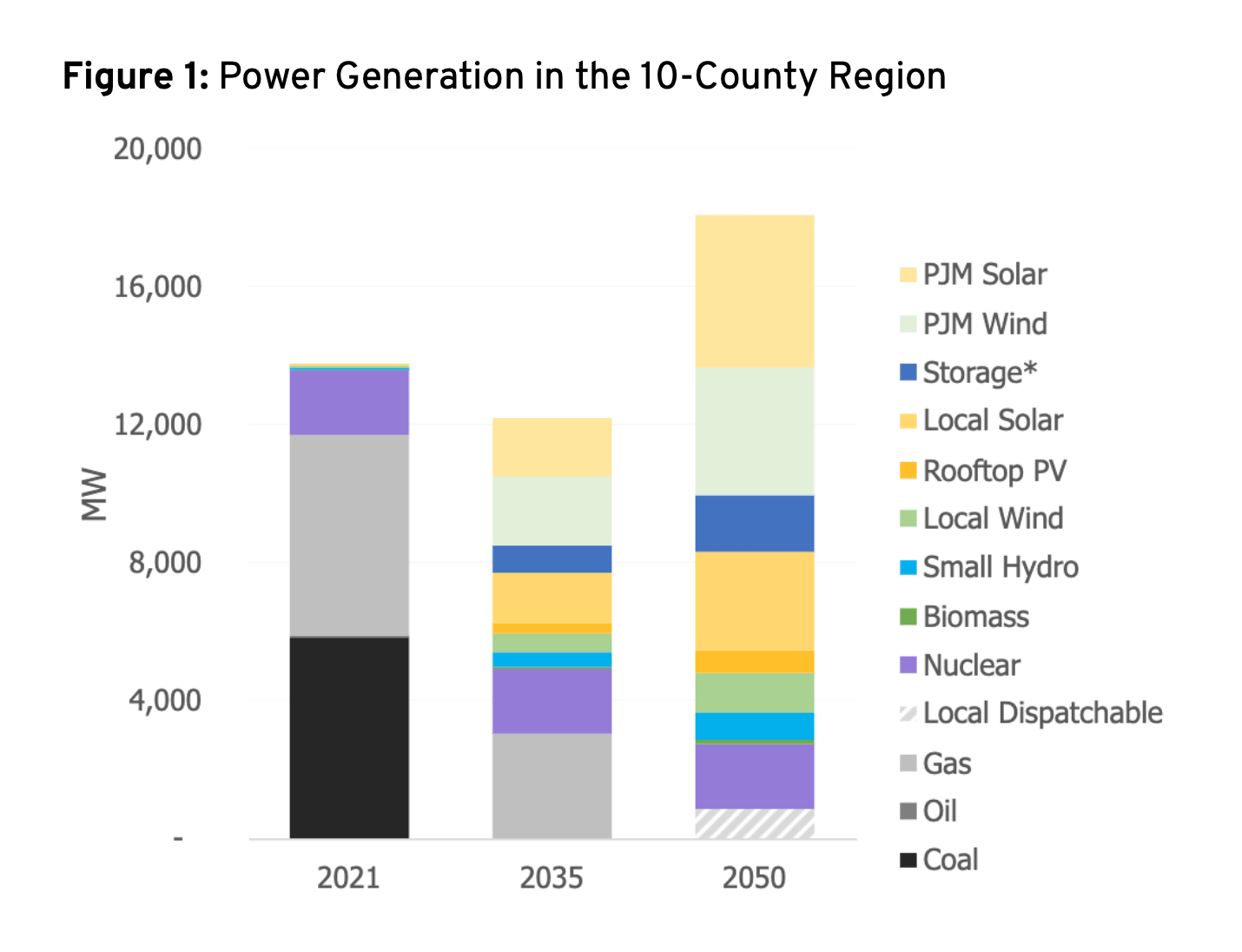 Backwards Visions
But competing visions for western Pennsylvania's energy future abounded at the Global Clean Energy Action Forum. As expected, hydrogen—and the carbon capture technology underpinning blue hydrogen development—proved a major lightning rod throughout the three-day conference. The industry group Team Pennsylvania, in collaboration with the Great Plains Institute, released a roadmap on carbon management and hydrogen development in Pennsylvania outlining rapid, 'hub'-based deployment of expensive, unproven decarbonization technologies that would prolong fossil fuel use across the region. Analysis indicates the roadmap would achieve fewer emission reductions, cost more, and deliver fewer jobs than the clean energy pathway outlined in the forthcoming ORVI/Strategen report. It also fails to answer basic questions about cost and impacts on people and communities, suggesting the decarbonization pathway was determined without a comprehensive assessment of its cost, effectiveness, viability, and its merits relative to other decarbonization pathways. 
ORVI's Media Splash
ORVI's research on the false promises of blue hydrogen and carbon capture technologies garnered serious media attention in Pittsburgh's largest media outlets during the ministerial:
Pittsburgh Business Times: Differing visions of hydrogen future — key to Pittsburgh region — dominate energy conference (9/22/22)

Excerpt:
…but ORVI Executive Director Joanne Kilgour in a separate session said many policymakers on both sides of the aisle have been focused on a midpoint strategy that maintains a dependence on fossil fuels. Kilgour and Sean O'Leary, senior researcher at the Ohio River Valley Institute, cast doubt about the wisdom of a fossil fuel-focused hydrogen and carbon capture and storage economy in Appalachia.

"It represents a difference between a future of job growth, economic prosperity and environmental recovery to one of job loss, population loss and environmental degradation," O'Leary said.

ORVI has outlined the economic cost of decades of fossil fuel drilling in Appalachia. ORVI has presented evidence from both coal mining and natural gas drilling, and counted a cost in job loss and population loss in many areas where there is natural gas drilling.

"The fact is that the Appalachian natural gas boom has been economically disastrous for our region," O'Leary said.

ORVI is about to present a report that highlights a renewables-based decarbonization that O'Leary said would be hundreds of millions of dollars less over time than using carbon capture and storage and hydrogen produced from natural gas.

O'Leary pointed as an economic model the city of Centralia, Washington, where a closed coal mine and a soon-to-be-closed power plant that has found a green-based sustainable formula that has led to the community adding jobs and wage growth.

"It's an economic model that is replicable in our region but whether or not we take it depends on the development strategies we adopt," O'Leary said.
TribLive: Some Pittsburgh Elected Officials Caution Against 'Blue Hydrogen' Hub Pitch (9/22/22)

Excerpt:
…and a group of Pittsburgh-area elected officials and environmentalists met Wednesday at Flagstaff Hill in Oakland to try to sway Pittsburgh's hydrogen future towards an alliance with renewable energy, and away from one with natural gas…

…Joanne Kilgour, director of environmental think tank Ohio River Valley Institute, said the region shouldn't align its energy future with natural gas, which has gone through a boom and bust cycle since proliferating more than 10 years ago.

She said embracing blue hydrogen over green hydrogen could mean the region misses its climate change goals. While natural gas emits less carbon dioxide compared to coal, production of the gas emits large amounts of methane, a powerful greenhouse gas.

"We hope that the Clean Energy Ministerial will instead focus on proposals that invest in true clean energy strategies like renewables – which are proven, cheap, safe, and clean," said Kilgour.
Pennsylvania Capital-Star: 'We need to do everything we can now': In Pgh, students march for climate justice (9/22/22)

Excerpt:
A student-led rally and march brought dozens of protesters to Carnegie Mellon University's campus today to demand climate justice as part of this week's Clean Energy Justice Convergence…

…Ben Hunkler, of the Ohio River Valley Institute, shares a similar vision.

"I don't know about you all, but I am tired of being exploited for profit by the fossil fuel industry," said Hunkler at the start of the rally, addressing the growing investment in Hydrogen and Carbon Capture Utilization and Storage.

"What carbon capture really means is more drilling, more pollution, more tainted water and contaminated air," Hunkler continued. "Carbon capture means more sick children. It means fewer jobs for our communities. And it means climate change accelerating for decades."
Pittsburgh Post-Gazette: The Hydrogen Money Is Here, Just In Time For The Hype (9/23/22)

Excerpt:
The idea of using natural gas as the main source of hydrogen production has been challenged by various groups who are worried that it's another way to keep the oil and gas industry relevant and profitable at the expense of cleaner energy sources.

The Ohio River Valley Institute, a progressive think tank, has cautioned that the pursuit of a blue hydrogen hub may leave taxpayers and utility rate payers on the hook for subsidies to fossil fuel companies. Its researchers also worried that it might distract resources and attention from other energy and economic development strategies. 
Indiana Gazette: Toomey concerned as 'clean energy' conference opens in Pittsburgh (9/22/22)

Excerpt:
…programs scheduled today and Friday in Pittsburgh include a forum on "the labor, leadership, and financing needed to deploy, deploy, deploy for economic development in traditionally carbon-intensive communities" in Appalachia, organized by the University of Pittsburgh and the Johnstown-based Ohio River Valley Institute.

Organizers said government, industry, and community partners will describe how zero-carbon resources can be deployed in ways that minimize cost, maximize emission and pollution reduction, and deliver jobs and opportunity in challenged communities.

"This region is ready for a true clean energy transition rather than one that still depends on fossil fuels," said Pittsburgh City Council member Erika Strassburger. "We're ready for clean energy solutions that are good for workers, good for families, and good for our climate."

Strassburger and other local elected officials gathered Wednesday afternoon at a news conference arranged by the Ohio River Valley Institute, to call on global energy ministers to "endorse real clean energy solutions."
Conclusion
The catastrophic weather events bookending the first Global Clean Energy Action Forum underscore the urgency of an accelerated transition to clean energy. Record flooding in Appalachian Kentucky in late July, catastrophic hurricane damage in Puerto Rico in September, and, now, Hurricane Ian's devastating landfall in Florida and along the southeastern US have uprooted communities and destroyed lives and livelihoods. Climate science experts warn that failing to limit global warming to 1.5 degrees Celsius could lead to global cataclysm: runaway ice melts, ocean current disruption, and an exponential increase in the severity and frequency of extreme weather events, like flooding, wildfires, hurricanes, and drought.
Decarbonization pathways that leave the door open for ineffective, expensive technologies like carbon capture and blue hydrogen and maintain our dependence on fossil fuels are a dead end for our communities and for the planet. The divergence between a renewables-centered pathway and one that eschews emissions reduction targets for false climate solutions like hydrogen and carbon capture represents a difference between a future of job growth, economic prosperity, and environmental recovery or one of continued job loss, depopulation, and climate and environmental degradation.