Pennsylvania's gas industry is in big trouble. Cranking out over 6 trillion cubic feet of natural gas annually, the state's production ranks second in the nation (after Texas) and ahead of eight OPEC nations. But the decade-long boom in the Marcellus seems to be fizzling out, doused by a sea of red ink and a wave of criminal indictments.
Making matters worse, the gas industry seems to be losing the contest for public opinion. In an election year no less.
The odds-on favorite to win the presidency this year is, of course, Pennsylvania native Joe Biden. Probably the most gas-friendly candidate among major contenders in the Democratic primary field, his emergence as the party's nominee might be seen as a good thing for the industry. Except that as Biden has clarified his energy policy platform it increasingly looks like his administration would be hostile to gas.
During a September 2019 campaign stop, he told voters, "I guarantee you. We're going to end fossil fuel."
When Biden announced his $2 trillion climate plan on July 14, 2020 he focused on making large investments in clean energy that would hamper the gas industry. Although he has declined to endorse a blanket ban on fracking as some other leading Democrats have—perhaps at the behest of Democratic leaders in western Pennsylvania–his plan would curtail its use. More important is his plan's aim to drastically reduce carbon emissions, including a provision to make the nation's power sector free from carbon emissions by 2035—a move that would sharply diminish the economic prospects for gas producers. Nationally, more than one-third of all gas goes to power.
Crucially, Biden's climate plan should be viewed as part of his campaign strategy. It is designed not only to frame a future legislative agenda, but also to help him contend in swing states like Pennsylvania that Donald Trump won narrowly in 2016. As such, his plan reflects the belief that the gas industry is not popular with voters. In fact, a recent average of polling results shows Biden ahead in Pennsylvania by nearly 6 percentage points as of this writing.
Biden's campaign strategy is supported by evidence both nationally and within Pennsylvania.
Nationwide, public opinion has grown very skeptical of fracking.
An August 2019 Associated Press-NORC poll found that only 22% of Americans support increasing fracking while 45% oppose increasing it.
A YouGov Blue poll in September 2019 found that registered voters support a ban on fracking by 46% to 33%.
A March 2017 Gallup poll found that a large majority of Americans, 53%, oppose fracking compared to only 35% who support it.
More relevant to political contests in the Marcellus region, a January 2020 Franklin & Marshall College poll found that voters in Pennsylvania favor a ban on fracking by a large plurality. The results challenge the prevailing narrative that a fracking ban is popular in the Keystone State.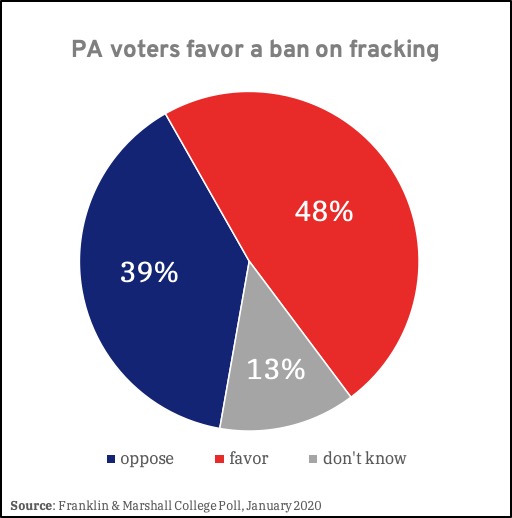 In fairness, the same poll also found that slightly more voters support "shale drilling" than oppose it, although it is important to note that this language is opaque and favorable to the industry, and that these results were well within the poll's 6% margin of error. And, a November 2019 poll conducted by the Cook Political Report and the Kaiser Family Foundation showing that a majority of swing voters in Pennsylvania thought a ban on fracking is a bad idea.
Nonetheless, the 2020 Franklin & Marshall poll is consistent with other recent opinion research. It also contained even more bad news for the gas industry. In Pennsylvania:
Nearly 1 in 3 Republicans support a ban on fracking.
Independents are evenly split on banning fracking.
Moderates support a fracking ban 51 to 35.
Voters under 35 support a ban by nearly 3 to 1.
Support for ban is strongest among middle class and lower incomes.
Nonwhite voters support a ban by more than 5 to 1.
Those results were corroborated by an early August 2020 YouGov poll conducted for CBS News. The survey found that a majority of registered voters in Pennsylvania oppose fracking with very high opposition among voters under age 44. Political moderates are opposed to fracking by a 24 point margin, independent voters oppose it by a 10 point margin, and Black voters oppose it by more than 3 to 1.
In many ways, voter attitudes in Pennsylvania reflect those in neighboring states like New York and Maryland that have already banned fracking outright under the leadership of Democratic Governor Andrew Cuomo and Maryland under Republican Governor Larry Hogan, respectively. Other states without significant gas reserves have also permanently or temporarily banned fracking, including Oregon, Vermont, and Washington. Fracking is also banned in France and Ireland while the UK, Germany, and the Netherlands have temporarily halted drilling.
The Franklin & Marshall poll results are revealing because they stretch back to the advent of the fracking boom in the Marcellus Shale formation. In 2011, 2014, 2018, and 2020, these polls have asked voters many of the same questions, using the same language. Delving deeper into the history of these poll results only yields more troubling news for the Pennsylvania gas industry.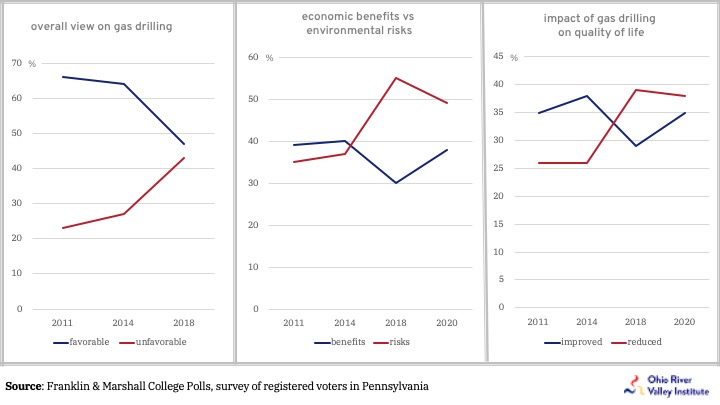 The Franklin & Marshall polls use language that is favorable to the industry. For example, most questions ask voters about "the extraction of natural gas from shale deposits in Pennsylvania" rather than about "fracking." Even so the results show steep erosion in voter support.
Support for "natural gas drilling" is in steep decline. In 2018, the most recent year for which data are available, views were nearly evenly divided.
By a wide margin in 2020—49% to 38%—voters see the environmental risks of "natural gas drilling" outweighing the economic benefits.
Voters in 2020 believe that "natural gas drilling" has diminished quality of life, as they did in the 2018 survey.
It is clear that public opinion is moving against natural gas and fracking. The shift in attitudes is probably attributable to a range of factors, including a growing body of evidence that underscores the industry's legacy of pollution and health impacts, plus a growing realization that it never  delivered on promises of jobs and economic prosperity. As the gas industry weathers a storm of bankruptcies, its popularity problem may pose serious obstacles to obtaining the subsidies and regulatory carveouts it needs to continue business as usual.
Editor's note: An earlier version of this article appeared at Sightline Institute.