Earlier this year, the Belomar Regional Council, an economic planning and development council comprised of governments in Belmont County Ohio, and Ohio, Marshall, and Wetzel Counties in West Virginia, submitted an updated Comprehensive Economic Development Strategy to the US Economic Development Administration. It contained this SWOT chart.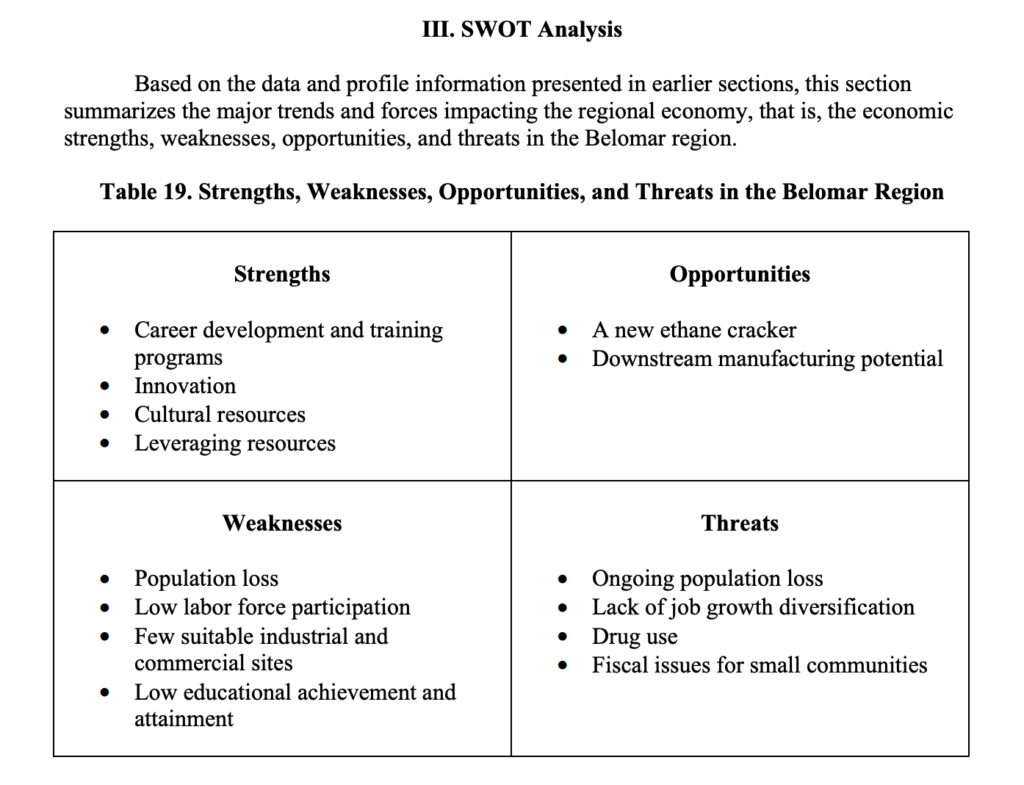 The only opportunity for economic development identified in the strategy is the construction of a proposed ethane cracker plant in Belmont County, Ohio and the downstream manufacturing jobs that some believe the plant would spin off. However, the plant's sponsor, a state-owned Thai oil and gas company, has postponed final investment decisions on the project four times in four years and recent reports by financial analysts have caused many to conclude that the project is unlikely to go forward.
If the project does not proceed and Belomar's only perceived source of economic opportunity is lost, what hope and, more importantly, what strategies remain for this four-county region that, since the bottom of the Great Recession in 2010, has lost 2% of its jobs and 7% of its population? 
That's the sort of conundrum the authors of a soon-to-be published study had in mind when they undertook to identify the kinds of amenities that contribute to economic growth and development in the nation's micropolitan areas. They hope their study, titled, "Estimating Quality of Life in Micropolitan Areas",  will spur additional research to help policymakers in small cities and towns "pursue policies tailored to their community rather than pursuing ineffective sector-based policies that fight against the larger economic trends."  
QOL > QOBE
Authors Amanda Weinstein of the University of Akron and Michael Hicks and Emily Wornell of Ball State University, find clear direction for that pursuit. Controlling for the presence of natural resources such as nearby national parks, mountains, and beaches, which are not easily replicable, the study finds that prosperous communities whose residents are willing to pay a premium to live there, sometimes in the absence of a wage premium, are distinguished more by quality of life (QOL) attributes they offer than they are by the quality of the business environment  (QOBE) they provide. And importantly, population and job growth are also more highly correlated with quality of life amenities than they are with business environment attributes.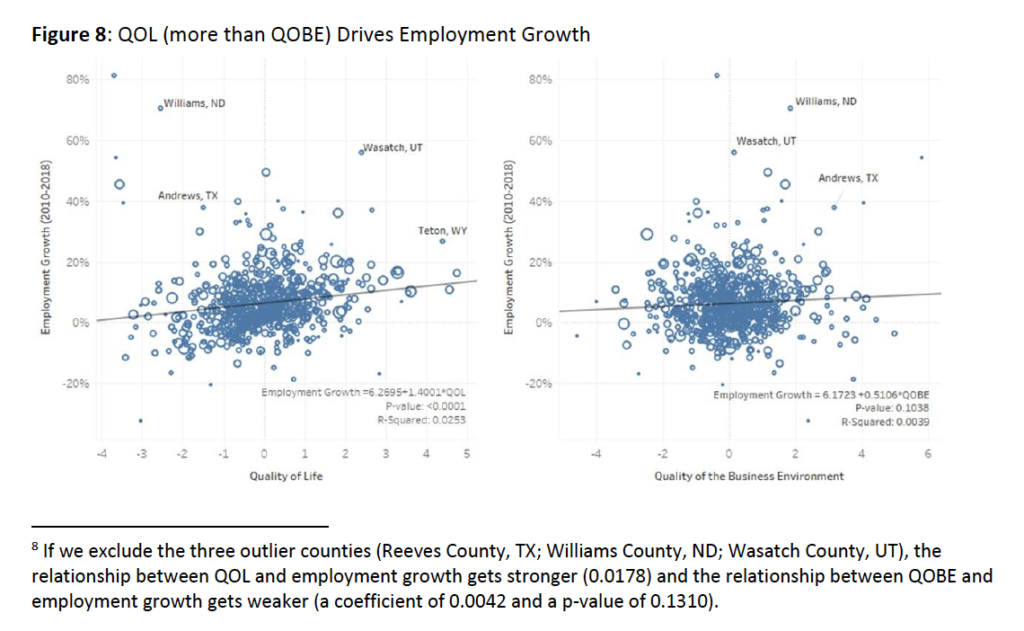 Mobility-related QOL attributes are key
Attributes contributing to a high quality of life are many and diverse and land at all points on Maslow's hierarchy of needs. Entertainment, recreation, healthcare, cultural opportunities, sports, education, weather, restaurants, retail options, and clean air and clean water all matter. But, some are more controllable by policymakers than others and, in a happy coincidence, many of those are also highly correlated with economic success.
The study's findings suggest that clean air and water and low rates of crime are fundamental, as is good healthcare. The study also finds that amenities that contribute to economic mobility play an important role. Mobility is defined as the ability of people and families to advance between income cohorts. Spending on schools promotes mobility as does spending on infrastructure, including roads and high-speed internet access, that help give residents access to benefits offered by larger cities and metropolitan areas.  
A "chicken and egg problem" . . . solved?
So, are quality of life amenities more likely to be a a cause of economic growth, population growth and job creation than they are its result?  The answer is that they are both and the ways in which they contribute to economic success will vary with each community depending on its peculiar attributes. But, while pointing out that additional study is needed, the authors draw important conclusions.
Policies that focus on increasing quality of life are more likely than those focusing on quality of business environment to generate higher levels of employment and population growth.

Higher quality of life in micropolitan areas is associated with poverty reduction.

Higher quality of life also promotes the economic success of residents and families.
And, as was pointed out earlier, many quality of life opportunities are highly actionable for local and regional governments because they are not dependent on the vagaries of the economy and the choices of distant corporate managements. 
These are important considerations for community leaders in places like Belomar as their now four-year wait to learn the fate of the cracker plant drags on and they cling to hope that they will not end up in the same position as their counterparts in Parkersburg, West Virginia  and Marietta, Ohio who, after their own four-plus year wait for a decision concerning an ethane cracker, saw it come to nothing.
We'll post a link as soon as the new study, "Estimating Quality of Life in Micropolitan Areas", is published.
__________________________
[1] Note: The Belomar region is considered by the US Census Bureau to be a metropolitan rather than a micropolitan area. However, due to continuing population loss, the Wheeling, West Virginia MSA now has a smaller population than several micropolitan areas and may be reclassified following the 2020 census.