If it were its own country, Appalachia would be the third-largest producer of natural gas in the world, behind only Russia and the rest of the United States. And, as new measurements reveal, Appalachia is likely the source of more system-wide fossil fuel methane emissions than any other region in the United States. Methane escapes from both natural gas wells and underground coal mines, even those that have been long out of service. The estimates come from Kayrros, a global assets observation platform that monitors and measures energy and natural resource activity worldwide using advanced mathematics and data gathered by satellites. 
Worrisome as they are, the findings may actually understate Appalachia's role in methane emissions as they pre-date a November 2022 "super-emitting" event in Cambria County, Pennsylvania, when a natural gas storage well was discovered to be gushing methane into the environment. The Pennsylvania Department of Environmental Protection estimated that the site allowed a staggering 1.29 billion cubic feet of gas, equivalent to roughly 20,000 metric tons of methane, to escape into the air. The single leak effectively erased emissions gains from about half of the 656,000 electric vehicles sold in the US last year.
Appalachia is home to the world's biggest methane risk.
Such super-emitting events, along with increases in overall annual methane emissions, represent a concerning trend, especially at a time when oil and gas industry executives are calling for increased production. These events are, unfortunately, hardly confined to Appalachia. Reporting on satellite data analyzed by Kayrros, The Guardian recently described over 1,000 "super-emitter" sites around the world that gushed massive amounts of methane into the atmosphere in 2022 alone. 
Yet of the top ten global "methane bombs" — gas fields where leakage from the full exploitation of the resources would result in emissions equivalent to at least a billion tons of carbon dioxide — two are located in Appalachia. In fact, the Marcellus shale gas play is the biggest methane bomb in the list, with potential future emissions from methane leakage estimated to reach the equivalent of 17 billion tons of CO2, more than three times the total annual emissions of the US.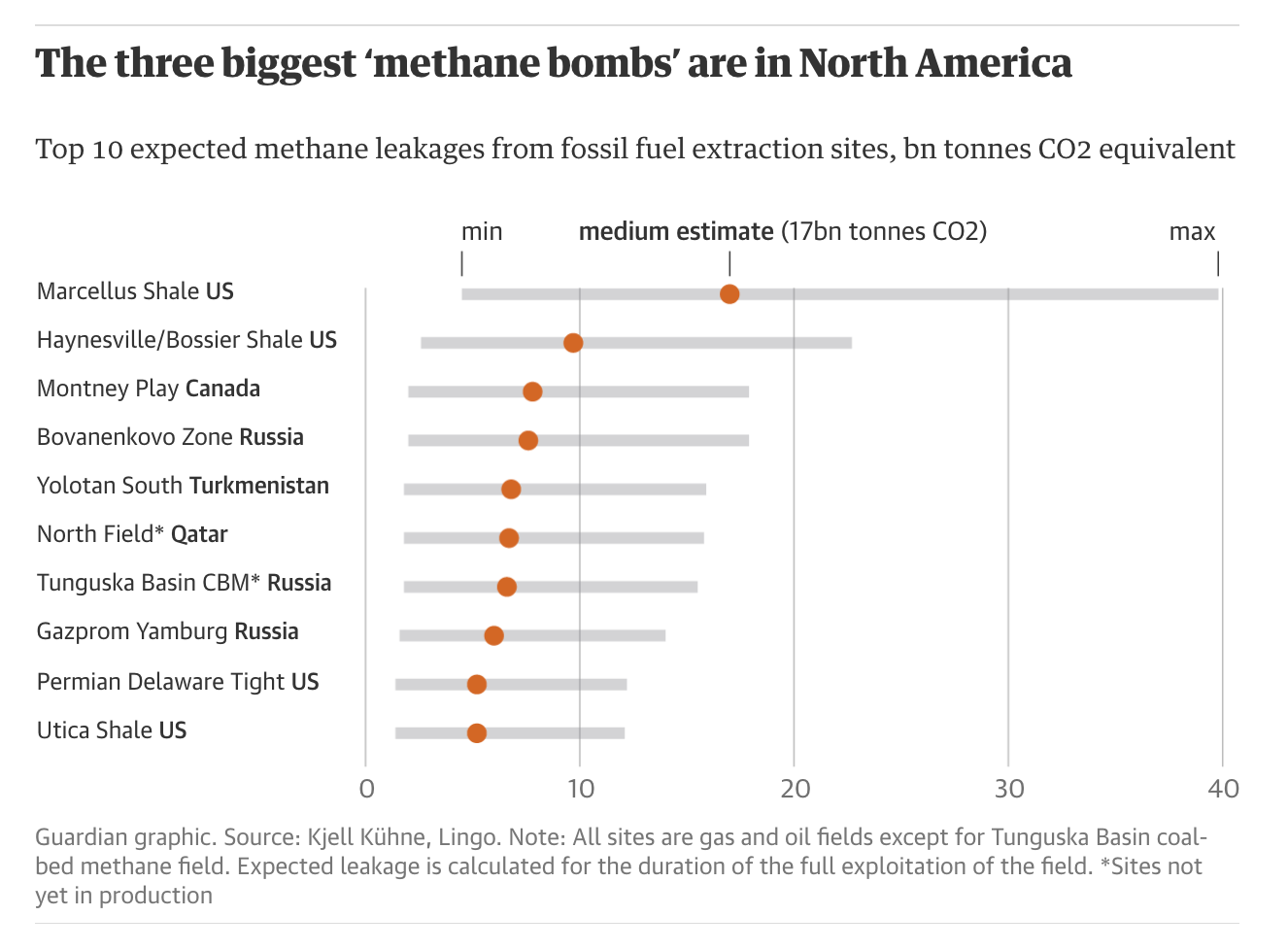 Source: https://www.theguardian.com/environment/2023/mar/06/revealed-1000-super-emitting-methane-leaks-risk-triggering-climate-tipping-points.
Natural gas is mostly methane and it is more than 25 times as potent as carbon dioxide at trapping heat in the atmosphere over a one-hundred-year period (and more than 86 times as potent over the first two decades), which presents a serious threat to climate stability. In fact, a peer-reviewed study published in July 2023 in Environmental Research Letters found that natural gas can be just as harmful to the climate as coal owing to pervasive leaks throughout the gas system. The study concluded as little as 0.2% of gas leaking can make natural gas as big a driver of climate change as coal. Yet previous research has shown upwards of 2% of the gas produced in the US leaks – ten times as much. (In fact, an April 2022 study by Environmental Defense Fund published in Nature Communications found that low-producing wells, which are prevalent in Appalachia, emit methane as much as 12 times faster than the national average, allowing approximately 10% of their gas to leak directly into the atmosphere.)
According to the most recent published accounts by Kayrros, methane emissions in the major producing regions in the US – the Permian and Appalachian Basins – were on track to surpass pre-pandemic levels in 2022, perhaps even reaching their highest levels on record. In Appalachia, emissions from fossil fuel production, including those attributed to coal, oil, and natural gas — hit an estimated 3 million tons in 2019, dropped to around 2.4 million tons in the pandemic year of 2020, but climbed again to approximately 2.7 million tons in 2021, roughly a quarter more than the methane emissions from the Permian Basin. Even more alarming, the data suggest Appalachia is seeing a rising methane intensity – the share of methane emitted per unit of gas extracted – at a time of unprecedented pressures to drill American natural gas for export.
Preventing new fossil fuel production in Appalachia is necessary if the US is to meet national and global goals for methane emission reductions.
These and other new surveillance data underscore the critical need to reduce global methane emissions, which are known to be highest in regions where most global oil and gas production occurs. Methane leakage from production areas–including that which is intentionally vented or flared from well site and processing steps, or seeped loose from miles of gathering and distribution lines–is the single largest contributor to methane leakage from the oil and gas system. As oil and gas production rebounds following pandemic lows, deploying new technology to monitor methane emissions, including leakage across the natural gas system, can serve as a key tool in holding industry accountable. Encouragingly, the UN Environmental Program announced plans in November 2022 to launch a public database of global methane leaks detected by satellites. 
At the same time, the Biden administration is rolling out new measures to address the problem of methane emissions by requiring oil and gas operators to monitor all of the country's roughly one million well sites. It would also force methane reductions from flaring equipment and create a system to detect leaks from "super-emitter" sites quickly so operators can repair them faster and so local community residents have some awareness of what's happening in their backyards. And, the federal government is providing states with new funding from the Inflation Reduction Act to tackle methane leaks from low-performing wells. 
While improved tracking systems can help identify and fix leaks throughout the natural gas system more quickly, even the best methane reduction plans won't work if fossil fuel extraction keeps expanding. As the latest research makes clear, preventing new wells and gas-related infrastructure in Appalachia is one of the keys to mitigating future methane emissions. 
Not that the gas industry agrees. Toby Rice, CEO of natural gas producer EQT, claims that less than one-tenth of one percent of Appalachia's natural gas methane escapes into the atmosphere. But these rosy projections are belied by a range of methane measurements and seem not to account for the major problem with fossil fuel infrastructure: it degrades over time, becoming ever-more prone to leaks and catastrophes as it ages.
Yet the world's biggest fossil fuel firms are already planning dozens of oil and gas projects that would drive the climate beyond internationally-agreed temperature limits, according to a Guardian investigation in May 2022. Projects like Appalachia's Mountain Valley Pipeline are designed specifically to allow more natural gas drilling and burning, exactly the opposite of what climate science is calling for. In fact, experts say methane emissions from the energy sector need to fall 64% by 2030 for the world to meet the 1.5 Celsius target, and natural gas use must fall by 26% by 2030 to achieve that reduction. 
As Mia Moisio, who leads the Climate Action Tracker project for the Germany-based New Climate Institute, warned the Washington Post, talking about emissions from leakage misses the larger point: that oil and gas production needs to decline rapidly.
Said Moisio, "There should already be no new investments in oil and gas production as of today. The US, as the world's largest oil and gas producer, has a clear responsibility to lead the way."