In August of 2022, the US Department of Interior (DOI) announced it awarded 24 states $560 million from the Bipartisan Infrastructure Law (BIL) to plug over 10,000 wells, reclaim well sites, and measure methane emissions. In January of last year, DOI announced that 26 states were eligible for $25 million each, or $650 million of the $775 million in Initial Grants as part of BIL.*  The Initial Grants are the first of three tranches of state grant awards under the new federal program to plug orphaned wells that also include Formula Grants ($2 billion) and Performance Grants ($1.5 billion) that will be allocated in the years ahead.
Guidance for the Initial Grants for states was released in April 2022. States cannot use more than 10% of the funds for administrative costs, except for the small-scale Initial Grant funds, where more than 10% of the funds can be used to help states build capacity in their orphaned well programs. Two other requirements are that contractors receiving grant funding must pay Davis-Bacon prevailing wage rates to workers and use materials, to the greatest extent possible, made in America.
The states that make up the Ohio River Valley region—Kentucky, Ohio, Pennsylvania, and West Virginia—were collectively awarded $100 million in Initial Grants. DOI has identified up to 1,655 wells they will plug. Altogether, the four states could receive another $1 billion in funds from the federal orphaned well program, including about $759 million from Formula Grants and $216 million from Performance Grants over the next decade. Each state has developed different plans for using the Initial Grant funds. For example, Kentucky and Pennsylvania are hiring additional staff to put together dozens of well plugging packages to bid out individually, while West Virginia and Ohio are outsourcing their traditional in-house well plugging program design and management work to private contractors. Meanwhile, Kentucky, Pennsylvania, and West Virginia plan to measure methane emissions at orphaned wells, while Ohio plans to use some funds to locate unknown orphaned wells using drones. Below is an overview of how each of the four Ohio River Valley states are using the Initial Grant funds along with other relevant information that has been collected from state oil and gas divisions that are administering the program. This information has been updated as of January 15, 2023.
West Virginia
The West Virginia Department of Environmental Protection (WVDEP) posted requests to plug 160 wells in six different geographic regions of the state in May 2022, with 40 wells each in two contracts (Regions 1 and 3) and 20 wells each in four contracts (Regions 2, 4, 5 and 6). In addition, the WVDEP issued bids in September 2022 to plug 34 wells on state and local public lands made up of two regions (Regions 7 and 8). The bid requests did not specify which wells are to be plugged, only the total number of wells to be plugged in each geographic area. This contrasts with how WVDEP has historically structured well plugging contracts, which typically only included one or a couple of pre-selected wells based on a set of criteria (usually because someone has complained that a well is hazardous). WVDEP has referred to these eight new bid requests as "jumbo packages." Altogether, WVDEP estimates it will cost $20 million to plug 160 wells based on a $125,000 per-well average plugging cost and an additional $5 million for other costs, including internal administration.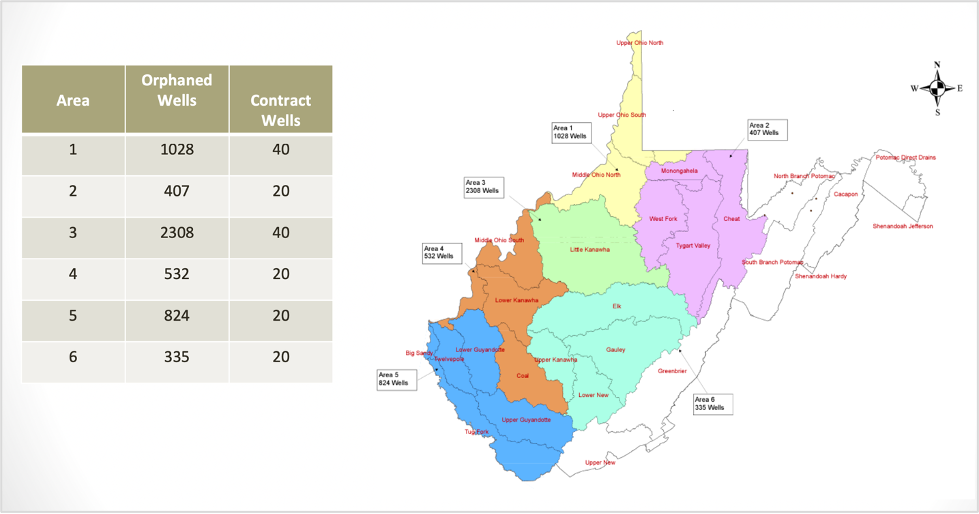 While WVDEP usually selects what wells contractors must plug in well plugging contracts, WVDEP is now requiring contractors to identify, inspect, and prioritize which documented and undocumented wells to plug and which wells sites to reclaim. WVDEP has identified a total of 5,434 documented orphaned wells across the six geographical regions. While contractors are free to choose any documented or undocumented orphaned well in the region that they want to plug, at least one-quarter of the wells they plug are required to be "Class 1 wells" that "pose an immediate threat to human health, safety, or the environment" or are an "impediment to the development of mineral resources." Class 1 wells would most likely include hazardous wells that are leaking large amounts of methane or other volatile organic compounds (VOCs) or that need to be plugged so a high-volume fracking well or coal mine can be developed.
In addition to delegating the decision of which wells to plug to contractors, WVDEP is also requiring contractors to report on impacts to surface water and air. If a well is leaking methane, the contractor must measure the methane leakage, report it to WVDEP, and perform a post-plugging analysis to determine the amount of methane emissions reduced. Moreover, WVDEP is requiring contractors to hire third-party "compliance officers" to ensure plugging projects follow correct permitting and plugging procedures.
So far, bids have been awarded on all eight regional well packages, with Next LVL Energy—a subsidiary of Diversified Energy with an office in Jane Lew, WV—winning three regional well packages (Regions 1, 3 & 6) that include a total of 100 wells and a combined bid of $12.6 million, or approximately $126,000 per well. Coastal Drilling East, out of Morgantown, WV, won two contracts (Region 2 and 7) to plug a total of 37 wells at a per-well cost of $122,572. Meanwhile, WPS Environmental, which operates out of southern West Virginia, was awarded two regional well packages (Region 4 & 5) at $4.7 million for 40 wells, or $118,00 per well. Altogether, the cost per well averaged $123,620, or about $24 million for 194 wells.
West Virginia, unlike some states, has indicated it does not plan to hire more than a few (if any) new inspectors (and perhaps one additional administrative staff) to oversee the state plugging program funded by federal dollars, which could total over $200 million over the next several years.
To put this in context, between 2018 and 2021, the WVDEP only plugged three wells and reclaimed just seven well sites at a total cost of $503,000. The state's well inspection staff has shrunk from 17 to nine over the last few years. WVDEP has also eliminated several positions within the Office of Oil and Gas.
The large influx of federal orphan well funds and quick deadlines to get the Initial Grant out the door (all money must be expended by August 2023), coupled with WVDEP's inability or refusal to increase staff despite the massive growth of the program, has led the agency to outsource well selection and other duties to contractors. For example, WVDEP is requiring contractors to hire "compliance officers" to ensure they follow state law instead of the WVDEP doing this verification themselves.
The outsourcing of these responsibilities from a public agency to private contractors could lead to perverse incentives where contractors cherry-pick the easiest, lowest cost wells to plug and wrongly report methane leakages or the quantity of hazardous wells.
Kentucky
The Kentucky Division of Oil and Gas (KDOG) has indicated that it plans to plug 1,000 to 1,200 wells by geographic areas (i.e., counties) in the state. The plan includes hiring 15-20 additional people to staff plugging initiatives under the BIL, though a recent DOI press release puts that number lower, at "up to 8 new state members." DOI also noted that part of Kentucky's $25 million in Initial Grants funds will "develop a process to model, measure, and report methane as well as purchase vehicles, computers, and monitoring equipment to increase the capacity of the state to inventory wells and oversee site work by contractors." According to a recent press release from the Governor of Kentucky, Initial Grant funds are expected to create 180 jobs.
In the spring, Kentucky passed legislation (HB 669 and SB 315) to comply with BIL, updating both orphaned well records and plugging statutes. Kentucky currently has a list of 14,367 "abandoned wells." Abandoned wells are a subset of "orphaned wells" which may have legal owners. The legislation also adjusted its contracting methods to increase the likelihood that small contractors could win bids by stipulating that (except for contracts under the Initial Grants) one-third of the contracts (bid packages) must be limited to no more than 10 wells, one-third to no more than 25 wells, and one-third issued should not have a limit of wells.
According to Kentucky records, a total of 41 "orphan well packages" in 25 counties containing approximately 627 wells have been awarded as of January 12, 2023. In addition, six well packages have not been awarded that contain a total of 99 wells in Henderson, Powell, Metcalfe, and Estill counties.
CMC Inc. has been awarded the most (13) contracts so far, totaling $8.2 million to P&A 240 wells, while Indiana Petroleum Contractors has been awarded $2.5 milllion to P&A 51 wells and Womac Brothers, Inc. has been awarded $2.4 million to P&A 79 wells.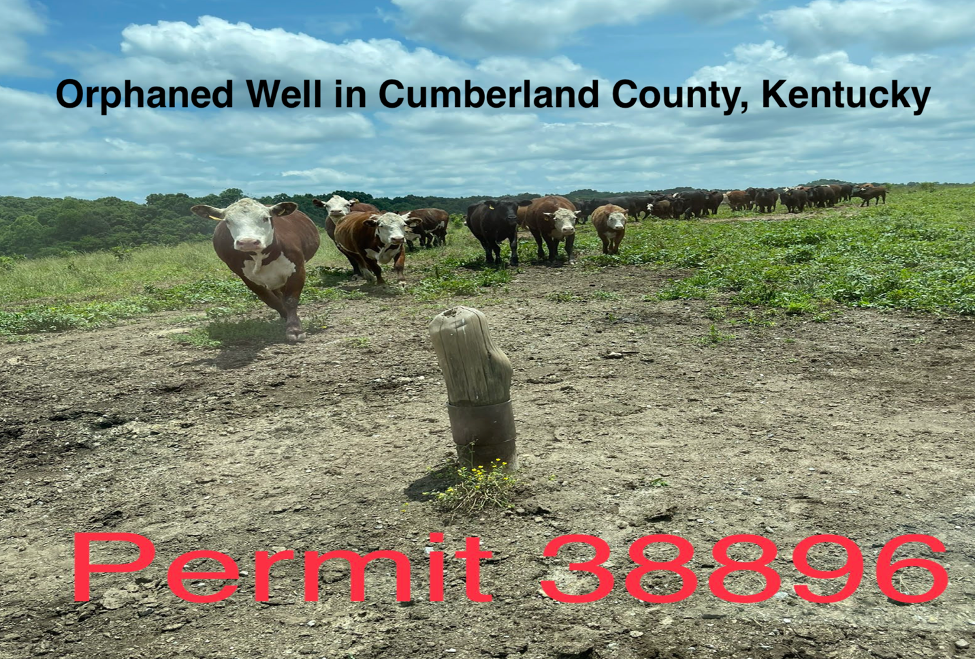 KDOG had estimated that plugging (and reclaiming) each well will cost $21,040, on average. However, of the bids awarded so far, the average plugging or P&A cost is just over $32,000 per well. Altogether, the 41 bid awards total $20.3 million. If the remaining unawarded packages reflect the average cost of the awarded well contracts, the total cost would by about $23.5 million. The average depth of the 627 wells contained in the bid awards is 1,126 feet, which is much shallower than wells in other parts of Appalachia. As the chart below shows, the average P&A cost per well increases along with the depth of the wells being plugged.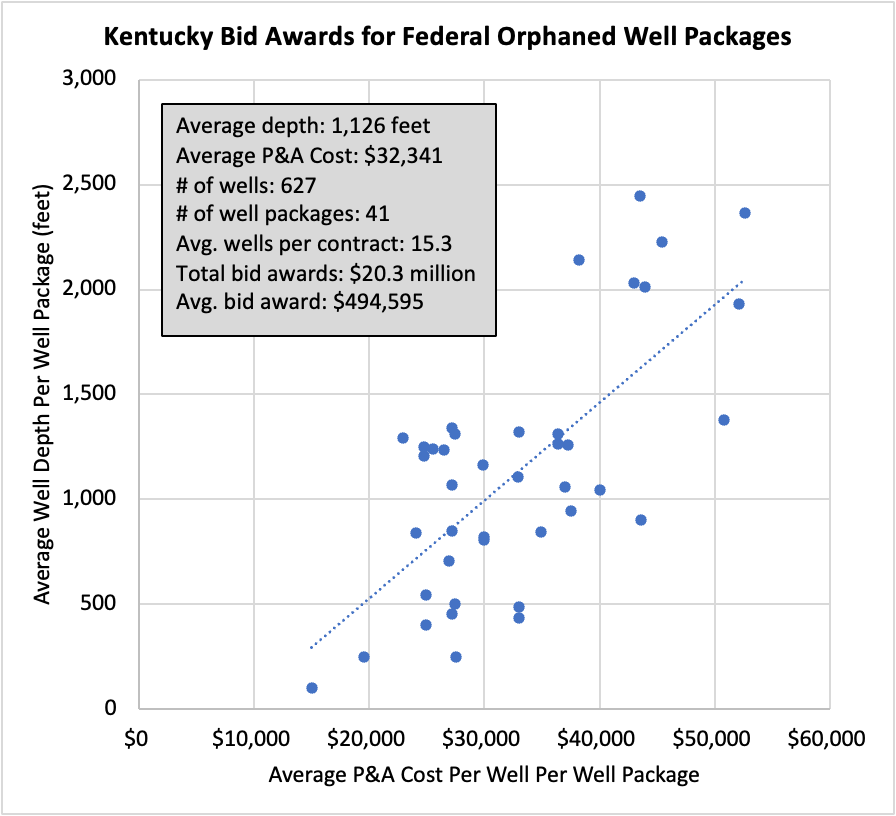 Source: Kentucky Vendor Self Service (VSS) system
Unlike West Virginia and Ohio, Kentucky has specified the wells they want plugged and reclaimed. Many of the orphaned wells included in the packages are shallow wells, with many under 1,000 feet, which is one reason for the lower-than-average estimated plugging costs compared to other states in Appalachia.
Ohio
According to DOI, Ohio plans to plug between 170 and 320 documented orphaned wells, mostly in the Appalachian region of the state, with their $25 million in Initial Grant funds. The Ohio Department of Natural Resources (ODNR) has not released a list of wells it plans to plug with the Initial Grants. ODNR's Division of Oil and Gas Resources Management also plans to track and measure methane and sample water supplies within 500 feet of orphan wells before and after plugging.
Traditionally, ODNR's orphaned well program pre-selects wells to plug based on a priority basis (usually based on a risk assessment). Contractors (there are 46 pre-approved plugging contractors) are then eligible to bid on projects that have been researched, designed, and grouped by ODNR. For BIL funds, ODNR has decided to outsource this work by hiring "construction managers" and "design services" to manage plugging projects and design plugging plans for contractors and subcontractors. ODNR plans to use $22 million from the Initial Grants to hire two construction managers and $6 million in state funds for design services. The "Construction Managers at Risk" manage completion of the work, including bidding, subcontractors, tracking work (e.g., payments), and coordinating with ODNR to witness and regulate well plugging. The design service consultants—professional engineers and architects—would use ODNR's orphaned well referral data to design and prepare construction plans for identified wells, including environmental and safety assessments of each well site.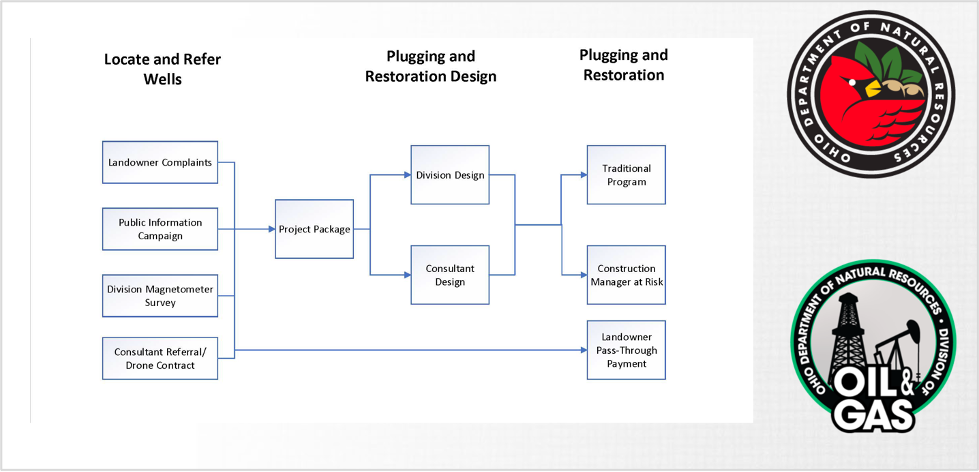 In April 2022, ODNR put out a request for bids for two construction managers for $11 million each to plug wells and remediate well sites over four years. ODNR also put out a separate request for bids worth $6 million for two architecture and engineering firms to work with the two eventual construction managers to design and prepare construction documents for identified orphan wells. These contracts can also be amended to include more funds and projects. ODNR has selected CSR Services and Next LVL Energy as the two construction managers at risk and three companies for design services: Civil and Environmental Consultants, TTL Associates, and The Thrasher Group. While ODNR has indicated it can plug "150 to 200 wells" for $11 million using private contractors, which amounts to between $55,000 to $73,300 per well, the reported number of wells it plans to plug using the Initial Grants fund—170 to 320—indicates that the plugging cost would be much higher, at $78,000 to $147,000 per well.
Like West Virginia, Ohio outsourced to private contractors work that the division has traditionally done internally. A recent audit of Ohio's Orphaned Well Program found that, because of a lack of staff within the Division of Oil and Gas Resources management, the agency has been unable to plug the number of wells required by state law, despite having over $180 million in their orphaned well fund. The audit recommended that ODNR utilize private contractors to complete more work and allow self-reporting of well inspections before and after wells are plugged. ODNR has implemented both recommendations using federal orphaned well plugging funds.
It remains to be seen whether outsourcing design and management of ODNR's orphaned well program will boost efficiency and increase the number of wells that are properly plugged and remediated using the Initial Grant funds. According to the 2022 audit, the average internal labor cost under ODNR's traditional program to locate, design and manage the plugging of one well was about $17,000 (based on about 356 hours of work) in FY 2021. Meanwhile, the average plugging contract cost was $62,100 in FY 2021, a total plugging and reclamation cost of about $79,000 per well. In FY 2022, the average plugging contract cost per well was over 80% higher, at $110,500. Assuming the same internal labor cost in FY 2021, this equates to a cost of roughly $127,400 per well.
While larger contract sizes can reduce well plugging costs, as well as not requiring staff inspections of plugging wells, it could prove difficult for ODNR to plug as many wells as efficiently as it does in-house by using private management and design services. There could be a steep learning curve for contractors and a desire to cut corners by not following state rules on plugging and well site procedures and inspections.
Pennsylvania
While DOI lists 50 wells that Pennsylvania identified to plug with its $25 million in Initial Grant funds, this only included high-priority wells the state planned to plug and not additional ones in proximity to these wells. Approximately 8,900 abandoned wells are on the Pennsylvania Department of Environmental Protection (PADEP)'s list of abandoned wells that have had a full inspection and investigation. PADEP has estimated that it will cost approximately $68,000 to P&A each orphaned well. Altogether, the PADEP plans to P&A approximately 277 wells with Initial Grant funding.
In late September 2022, PADEP posted their first invitation for five contract bids for 79 wells using federal Initial Grant funding in Allegheny, Butler, McKean, and Potter counties. More recently, PADEP announced five additional invitations to bid on 84 wells in Washington (14), Armstrong (32), and Venango (38) counties. PADEP also plans to use $5 million in Initial Grant funds as part of an "Invitation to Qualify" process that stems from recently passed legislation (HB 2644). The law (Act 96) sets aside 20% of BIL well plugging funds ($66-80 million over the next ten years) in a new "Oil & Gas Well Plugging Grant Program" to be run by PADEP. It also loosens restrictions on eligible well pluggers, prescribes minimum grant amounts that pluggers must receive based on the depth of the well they plug, and sharply limits well plugger liability. This new law could prevent Pennsylvania from receiving $20 million in Performance Grant funds since this money is only available if states adopt measures to prevent oil and gas drillers from abandoning more wells.
So far, bids have closed on five well plugging packages with the low bids totaling $5.8 million. Plants & Goodwin was the lowest bidder on two contracts, while Next LVL Energy, Hydrocarbon Services, and Keystone Wireline Services each had a low bid. The average per-well P&A cost in the five bids was $73,883, which is about $6,000 more than PADEP originally estimated. If the additional 198 wells that are planned to bid have the same per-well cost, this would total about $20.5 million, excluding the funds set aside for the "Invitation to Qualify" program.
Unlike Ohio and West Virginia, PADEP does not plan to privatize its internal orphan well plugging functions (design and management). Pennsylvania has been slow to roll out RFPs for plugging contracts, which may be understandable given that the state legislature recently enacted legislation that altered the allocation of federal orphan well plugging funds.
Federal and Tribal Land
In May of this year, the Bureau of Land Management (BLM) announced $33 million to clean up 277 "high-priority polluting" orphaned wells and well sites on federal public lands, national parks, national wildlife refuges, and national forests. This included 24 wells in Kentucky (Daniel Boone National Forest), 3 wells in Ohio (Cuyahoga Valley National Park), 18 wells in Pennsylvania (Allegheny National Forest), and 1 well in West Virginia (Gauley River National Recreation Area). This allocation is part of a total of $250 million provided by BIL. So far, BLM has awarded two contracts totaling $1.1 million to plug 12 orphaned wells in Utah and California. BLM also plans to award separate contracts to measure methane at these well sites. According to DOI, "The Tribal orphaned well grant program is being informed by ongoing Tribal consultations and listening sessions.
Conclusion
Small budgets and insufficient staffing are causing some state orphan well offices to outsource the work to identify, inspect, and prioritize which wells to plug. While these public offices traditionally used their resources to carry out these tasks, they are now requiring private contractors to do the work since state policymakers haven't allocated resources to increase staffing capacity. In some ways this is understandable since most state orphaned well plugging programs are small, such as West Virginia's, though Ohio's program is one of the largest in the country. It is tempting for agencies to outsource work when large bursts of grant funding need to be expended in a short amount of time. However, it is imperative that policymakers appropriate the funding necessary to avoid having the "fox guarding the hen house."
*Of the 26 states that were deemed eligible for $25 million for Initial Grants in January 2022, three states – Alabama, Missouri, and Utah – were not awarded funds in August 2022. Florida was not listed as an eligible state for Initial Grant funds in January 2022 but was awarded $25 million in August 2022. Meanwhile, Mississippi and Arkansas were eligible for $25 million in Initial Grant Funds in January 2022 but received $5 million each in August 2022. The remaining balance of Initial Funds is $215 million based on the total budgeted Initial Grant Funds of $750 million in BIL.  It is unclear how these remaining funds will be dispersed.