Pennsylvania Attorney General Josh Shapiro charged Mariner East 2 Pipeline owner Energy Transfer with a total of 48 counts of environmental crimes last Tuesday in a landmark crackdown that reflects Pennsylvania voters' overwhelming concern about the impacts of fracking and related activities. 
In a hearing, Shapiro's office revealed that, on multiple occasions, Energy Transfer allowed tens of thousands of gallons of drilling fluid to escape underground during construction of the pipeline. The company repeatedly failed to report spills to the Pennsylvania Department of Environmental Protection (PADEP), even as the drilling fluid resurfaced in fields, backyards, streams, lakes, and wetlands, contaminating Pennyslvanians' drinking water supplies. 
Voters in the state are fed up with the pollution and risks associated with fracking. According to a recent poll conducted by Data for Progress and released by the Ohio River Valley Institute (ORVI) , Pennsylvania voters across demographics are very concerned about the environmental and public health effects of fracking and related activities. By overwhelming margins they support a serious crackdown on fracking operations.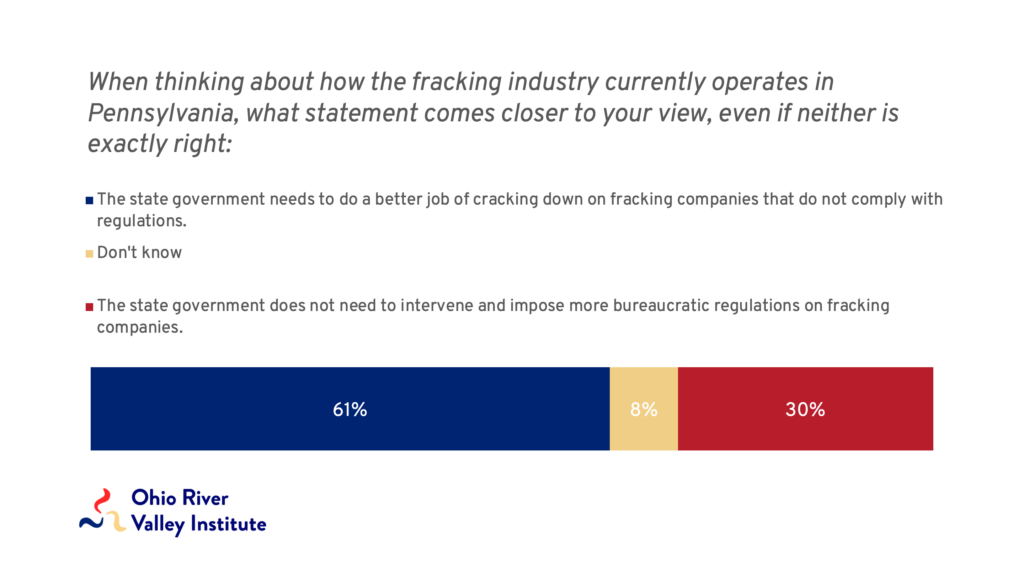 More than six in ten (63%) Pennsylvania voters support allowing the Office of Attorney General to prosecute oil and gas companies, the poll finds.
The Mariner East Pipeline system, which began construction in February 2017, stretches from the Pittsburgh area across the length of Pennsylvania. It delivers volatile natural gas liquids extracted from frack wells in the Ohio Valley to an export terminal on the Delaware River. The project is now more than two years behind schedule and subject to a number of legal settlements resulting from citizen lawsuits, StateImpact Pennsylvania reports.
One of the largest drilling mud spills occurred in August 2020, when as many as 28,000 gallons of contaminated fluid escaped into Marsh Creek Lake in Chester County. In total, more than 80,000 gallons of fluid were released in and around the lake between 2017 and 2020. 
News of the devastating environmental and public health effects of drilling fluid spills revealed during the Attorney General's investigation closely mirrors Pennsylvania voters' perception of the natural gas industry. Nearly 90% of Pennsylvania voters are concerned about air and water pollution from fracking and related activities, the DFP/ORVI poll finds, and fewer than two in ten Pennsylvania voters say they have heard mostly positive things about the impact of fracking on public health (18%) and air and water quality (15%). Less than half of state voters agree that the economic benefits of fracking outweigh the environmental costs (43%) and impacts on community health (42%). 
In general, fracking and oil and gas companies like Energy Transfer are far less popular than the clean energy industry, the poll shows. Nearly seven in ten (69%) Pennsylvania voters have a favorable opinion of the clean energy industry. Fewer voters view the fracking industry (42%) and oil and gas industry (52%) favorably. 
Energy Transfer's reputation has been damaged by a series of environmental citations stretching back to the early stages of Mariner East's construction. Since May 2017, the Pennsylvania Department of Environmental Protection has issued fines totaling more than $20 million to the pipeline developer for about 125 separate violations, many of which were drilling spills.  
"As these charges make clear, there's a real wide gap between what our Constitution guarantees and the reality of families and communities in the path of this pipeline," Shapiro said during a news conference announcing the decision. "We can't rely on these companies to police themselves — hell, they work for shareholders, not for us."
Shapiro's previous calls to more strictly regulate fracking operations in Pennsylvania enjoy overwhelming support among Pennsylvania voters of all demographics, according to the DFP/ORVI poll. Large majorities support recommendations in the Attorney General's 2020 grand jury report to limit the revolving door between politicians and fracking companies (67%), require public disclosure of all chemicals used in drilling and fracking operations before they are used on-site (79%), and conduct a comprehensive health report on the effects of living near drilling sites (79%).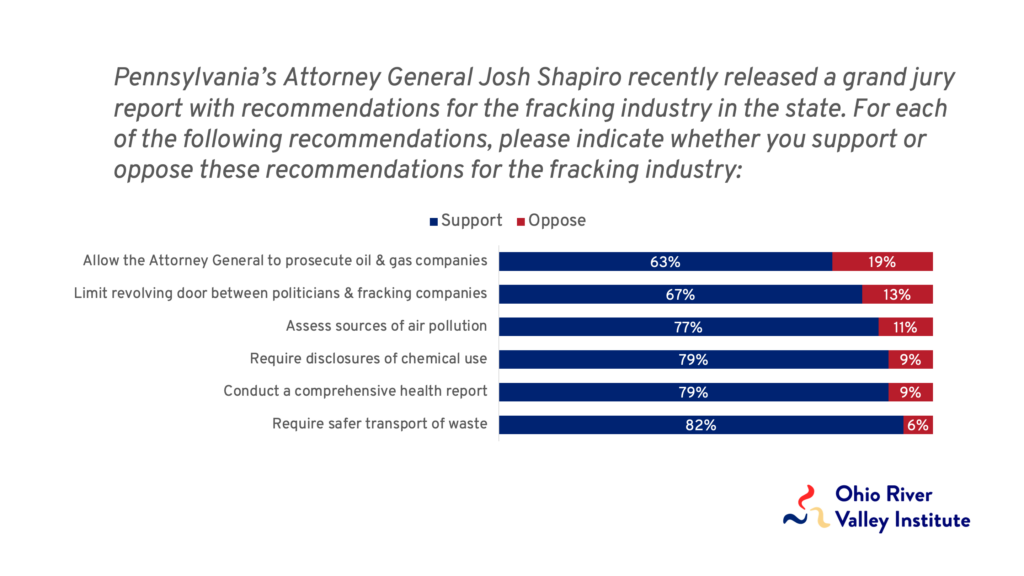 The ruling could prove a critical step toward reeling in Pennsylvania's sprawling network of fracking wells, compressor stations, and natural gas pipelines. In fact, a majority of Pennsylvania voters want to see an eventual end to fracking in the state. One-quarter (25%) say fracking should end as soon as possible, while another one-third (30%) say it should be phased out over time. Just 31% of voters want to maintain fracking in the state.
To view toplines, crosstabs, and a full summary of Data for Progress and the Ohio River Valley Institute's public opinion poll, visit https://ohiorivervalleyinstitute.org/dfp-poll/.