Update: In a resounding victory for Pennsylvanians and a vindication of public will, Allegheny County Council voted 12-3 to override County Executive Rich Fitzgerald's veto, codifying the ban on fracking and other industrial activities in county parks. The override vote, which notably passed by an even greater margin than the council's initial 11-4 vote in favor of the ban, marks the first time in Fitzgerald's three terms that council has reversed one of his vetoes.
Last month, a forum of more than 100 community members gathered outside the City-County building in Pittsburgh to urge the Allegheny County Council to pass Bill 12162-22, an ordinance that would ban fracking and other industrial and commercial activities in county parks. During the hearing that followed, the group orated in favor of the bill, citing serious environmental and public health harms known to be caused by fracking and the severe climate toll of natural gas drilling. 
The strong public show of support for the Allegheny County parks fracking ban reflects a broader, statewide souring on fracking. As recent public opinion polling shows, across demographics and by wide margins, Pennsylvania voters support a crackdown on fracking operations. Voters are deeply concerned about the environmental, public health, and climate impacts of fracking and are skeptical of its economic benefits, a 2021 poll from Data for Progress and the Ohio River Valley Institute finds.
Throughout the state, the vast majority (90%) of voters, including 98% of Democrats, 90% of Independents, and 82% of Republicans, say they are concerned about water pollution. A recent Muhlenberg College Institute of Public Opinion survey found that two-thirds (67%) of Pennyslvanians say natural gas drilling poses a major risk to the state's water resources, and about one-third (34%) categorize water contamination as the most important risk related to fracking in Pennsylvania.  A similarly overwhelming majority (86%) of voters are concerned about air pollution, including 97% of Democrats, 86% of Independents, and 74% of Republicans.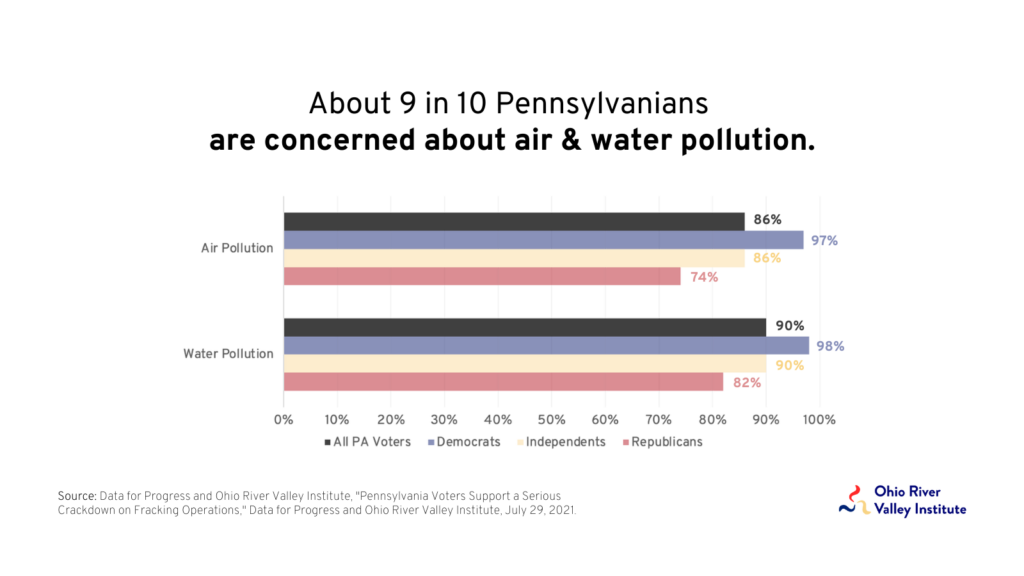 Climate change is another top concern for Pennsylvanians across the political spectrum. Three-quarters of voters (75%), including 92% of Democrats, 82% of Independents, and nearly half (45%) of Republicans, say there is solid evidence that temperatures on earth have risen over the past four decades. Nearly eight in ten (77%) Commonwealth residents say global warming is a "serious problem," and more than half (53%) consider it "very serious." (Studies show that fracking is a "major driver" of the recent increase in atmospheric methane, a climate-warming gas up to 80 times more potent than carbon dioxide.
It's little surprise, then, that four in ten (40%) Pennsylvanians say definitively that drilling for natural gas in Pennsylvania "will provide more problems than benefits in the future." On the whole, perceptions of fracking on public land are overwhelmingly negative: just 14% of state voters say they have heard mostly positive things about the impact of fracking on public lands, while more than four in ten (42%) say that what they have heard is mostly negative.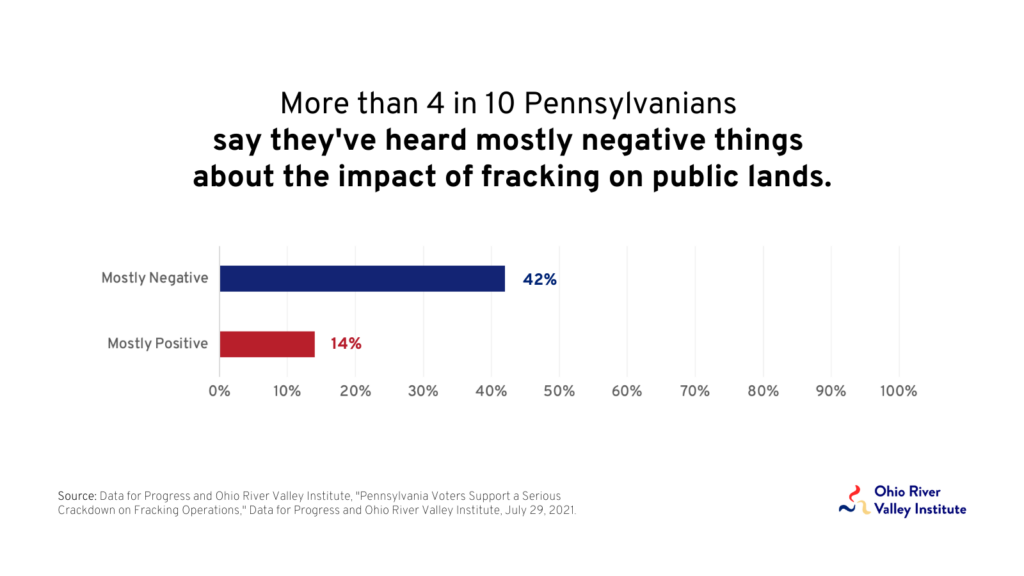 But despite broad public concern about natural gas drilling, the Allegheny County parks fracking ban is now stalled. Following a public hearing in which more than 100 residents expressed an outpouring of support for the ban, County Council approved the ordinance by an 11-4 vote. But shortly afterward, County Executive Rich Fitzgerald shot down the vote. Fitzgerald's veto freezes the bill for now, though council has thirty days to override his decision with a 10-vote supermajority. 
Allegheny County Council President Pat Catena confirmed that he will schedule a special meeting to attempt to override the veto. Meanwhile, County Council member Beth Hallam asserted that Allegheny County residents' position is loud and clear. "Not one person who has contacted me from any district has asked that we frack our parks—all have told me to ban fracking any way possible," she said in a response to Fitzgerald's veto.
Polling corroborates Hallam's claim, showing that a majority (55%) of Pennsylvanians support an end to fracking altogether. One-quarter (25%) of state voters say fracking should end as soon as possible, while nearly one-third (30%) say it should be phased out over time. In 2020, nearly half (48%) of Commonwealth residents said they favored a ban on fracking across the state, according to a Franklin & Marshall College survey.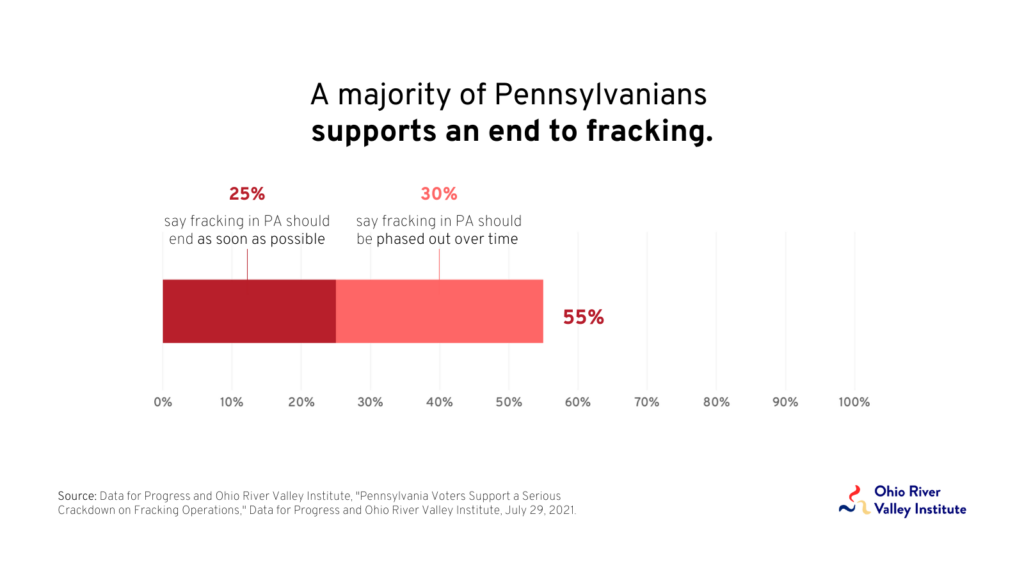 In defense of his veto of the fracking ban, Fitzgerald maintained that natural gas drilling has been and will continue to be "part of the county's plan for energy independence and sustainability." Fellow opponents of the ban suggest the future revenue from leasing natural gas extraction rights warrants maintaining the option to frack Allegheny County's parks, despite the potential damage to public health and the environment. But the public largely disagrees—less than half of state voters say the economic benefits of fracking outweigh the impacts on community health (42%) and the environment (43%).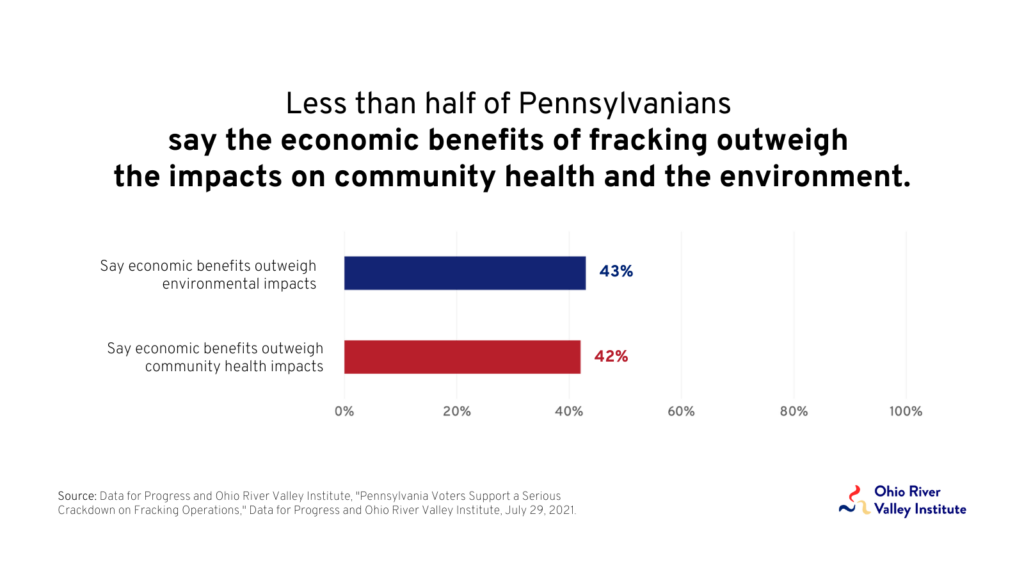 To many, it's obvious that community benefits of fracking have been minimal and isolated and any profits are going largely to faraway executives and shareholders of oil and gas corporations. Federal data show that, though fracking has produced enormous economic output as measured by GDP, it has generated little economic benefit for Pennsylvania families. From the beginning of the fracking boom in 2008 through 2019, the state's eight largest natural gas counties churned out GDP growth of 57%, a rate almost triple the national average. Yet, in the same period, these counties' job growth and personal income growth fell far behind the nation's, and they lost nearly 3% of their population.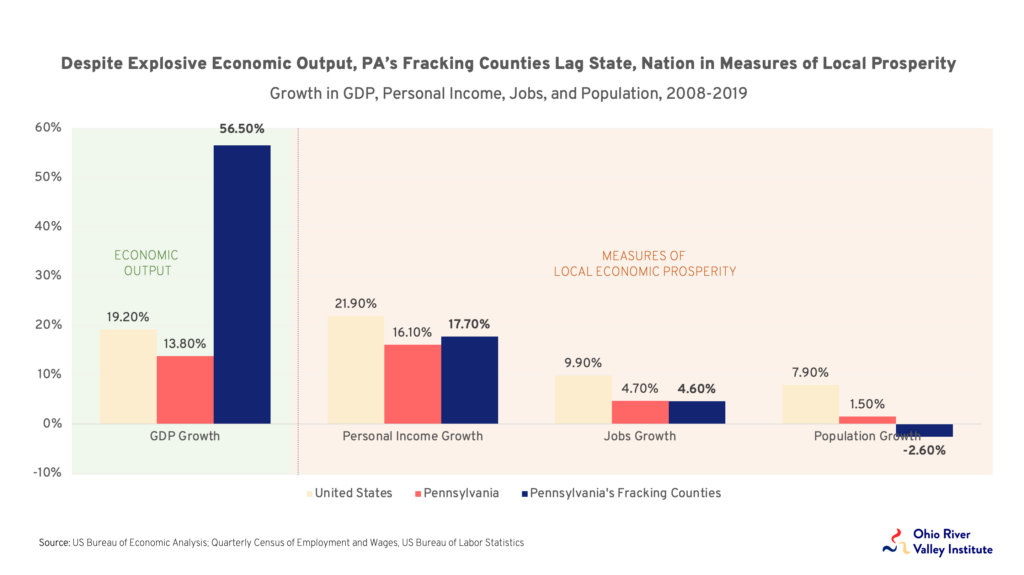 ORVI research shows that natural gas development was structurally incapable of creating job growth and local economic prosperity. That's because the gas industry is highly capital-intensive and not very labor-intensive, reliant more on machines and equipment for production than wage-earning employees. As a result, relatively few jobs were created per dollar invested, and of the jobs that were created, many went to contractors and service providers from outside the region instead of Pennsylvanians looking to work. The expansion of the gas industry also had a much smaller effect on 'downstream' sectors of Pennsylvania's economy than industry analysts predicted.
In short, fracking development was destined to fail. And the same structural factors that precluded local economic benefits in the past will inhibit local economic benefits from fracking in the future, in Allegheny County parks or elsewhere. In other words, if Allegheny County were to move forward with leasing natural gas rights to its public parks, nearby residents would suffer acute community health harms and environmental degradation with marginal, if any, job growth or increase in local economic prosperity as compensation. It's a trade-off that doesn't make sense for Pennsylvania families.
A growing repository of public opinion data demonstrates that residents of the Commonwealth favor decisive action on fracking, spurred by near-unanimous concern with air and water pollution and growing skepticism of the economic merits of gas extraction. Now, in Allegheny County, the Bill 12162-22 veto override vote presents an opportunity to cement public will. Will residents' elected representatives rise to the occasion?