On Friday, February 3, a Norfolk Southern train carrying hazardous petrochemicals derailed near East Palestine, Ohio, sparking what may be one of the worst environmental disasters in US history. Thousands of fish have turned up dead in nearby waterways; a plume of toxins is flowing down the Ohio River, and officials are still releasing lists of carcinogenic chemicals that have tainted the community's air. Here's how the ongoing crisis has unfolded: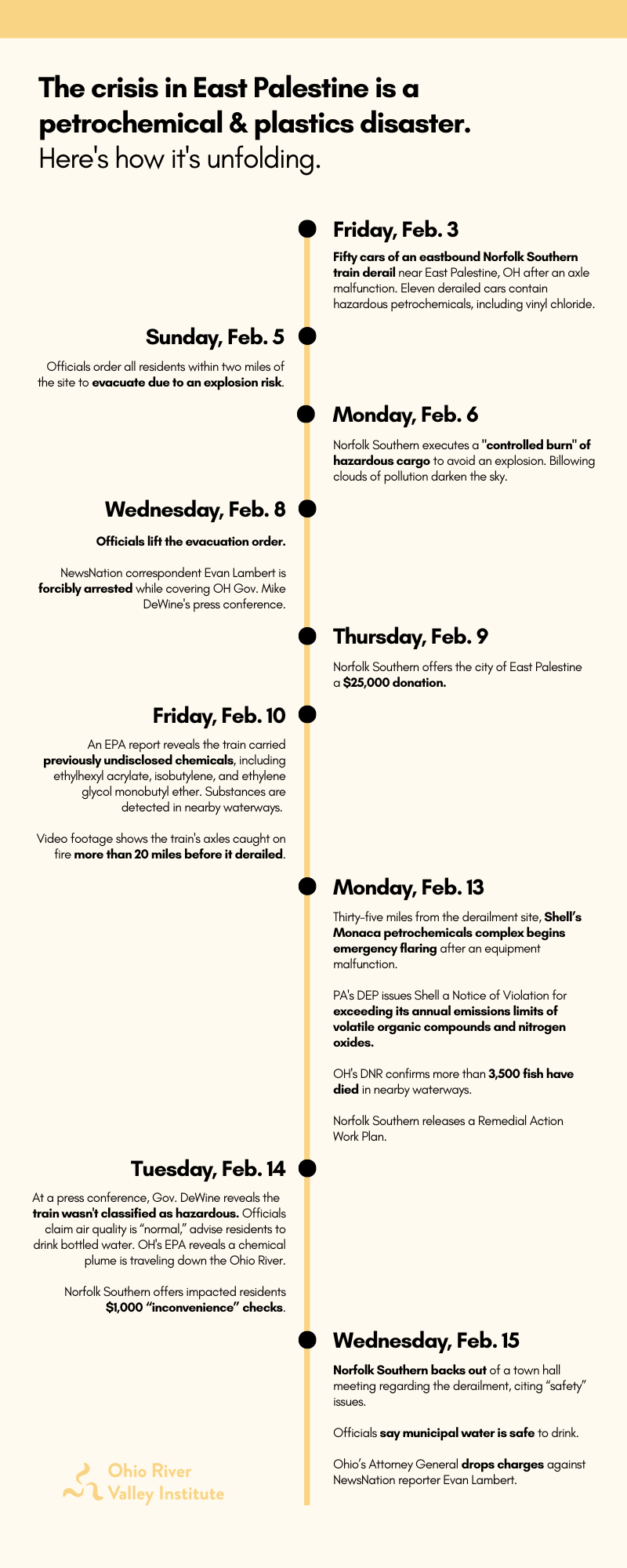 The Norfolk Southern derailment is a nightmarish example of petrochemical harm at its most dire. It's also a reminder that families on the front lines of petrochemical development are put at risk every day. 
Just over a week after Norfolk Southern's train derailed, an emergency flare from Shell's newly operational petrochemicals complex lit the sky orange in Beaver County, Pennsylvania, only 35 miles from the site of the East Palestine disaster. The flaring episode, which the company later attributed to an equipment malfunction, comes shortly after Shell exceeded its annual emissions limits for volatile organic compounds (VOCs) by more than 140 tons, according to a notice of violation from the Pennsylvania Department of Environmental Protection (PADEP). In just three months of operation, the complex has received three PADEP notices of violation and submitted at least seven malfunction reports. 
Petrochemical development endangers our communities. Does it promise jobs and prosperity in return?
The Shell cracker comes online at a time when the global petrochemical industry is facing a severe "bust" cycle. Across the world, demand for virgin plastic products is slowing as the public grows increasingly concerned about plastic waste, cities and countries enact bans on single-use plastic products, and major packaging companies pledge to increase their use of recycled materials. Global market shifts raise serious questions about the viability of new petrochemical development in the Ohio River Valley—and the longevity of Shell's new ethane cracker—as profit margins of US ethylene producers continue to plummet. From 2021 to 2022, Shell Chemical's petrochemical segment earnings dropped by $2.3 billion, and capacity fell by about 8%.
It's a poor outlook for a facility that has already failed to live up to expectations. For more than a decade, policymakers and industry boosters claimed Shell's plastics plant would spur job growth and renewed business investment, revitalizing the region's economy. But data show that the project's development has failed to deliver local prosperity thus far—since the plant's announcement in 2012, Beaver County has fallen behind Pennsylvania and the nation in job growth, business development, population, and nearly every other measure of economic activity. 
Research suggests petrochemical production isn't a proven job creator. Continued development will only exacerbate the risks faced by Ohio River Valley communities. 
More petrochemical production means more petrochemical transportation. And the stakes could soon be heightened. Motions to transport liquified natural gas, a petrochemical feedstock, by rail would place railside communities in even greater danger. Just 22 tank cars loaded with liquified natural gas (LNG) hold as much energy as the Hiroshima bomb, meaning an LNG train derailment half the size of East Palestine's could level an entire city. If an accident were to happen in a railside population center, like Pittsburgh or Philadelphia, hundreds of thousands would face "a [very high chance] of serious health impacts, even if they have a chance of survival," ORVI Executive Director Joanne Kilgour explains. More than 3.9 million Pennsylvanians live within a half-mile evacuation zone of a potential oil train accident. 
And as long as we continue to transport hazardous petrochemicals by rail, the next East Palestine disaster is just a matter of time. According to the Federal Railroad Administration, there were 39 train derailments and 58 total accidents in Ohio last year—more than one accident every week. More "bomb trains" on our railways heightens the risk—and the stakes—of the inevitable derailments that will happen in our region's future. It's a question of when, not if.
Disasters of the magnitude we're seeing in East Palestine are a stark reminder of how acutely the petrochemical industry endangers Ohio River Valley families. But accidents are far from the only threat. The entire lifecycle of plastics production, from natural gas extraction to the ethane "cracking" performed at Shell's facility, puts frontline communities under constant threat, even when things go as planned. Fracking for the natural gas that feeds plastic-producing facilities dredges up enormous amounts of methane, a potent climate-warming gas that has been linked to serious health risks. Converting feedstock gasses into plastic products generates carcinogenic fumes and trillions of lentil-sized pellets, known as "nurdles," that clog waterways, endanger wildlife, and pile onto the increasing plastic pollution crisis. 
For the profit-driven fossil fuel industry, the East Palestine disaster, the Shell cracker flaring, and the ongoing harms inflicted by day-to-day oil and gas production are a calculated cost of doing business. That is, a cost they don't have to pay. Instead, the environmental and public health price tag of producing, transporting, processing, and combusting fossil fuels is externalized, or offloaded, onto families like ours. If fossil fuel companies had to pay for the damage they inflict on the US public, the bill would top $62 billion each year, research shows. 
Keeping our communities safe, healthy, and prosperous will require a new kind of economy. 
Commonsense insurance requirements—requiring transportation companies to pay up front for the catastrophic damage derailments can cause—could help protect rail-side communities from the next petrochemical train disaster, research shows. But the best way to minimize toxic pollution and keep our loved ones safe is to leave dirty, harmful petrochemicals behind. A new clean energy pathway for the Ohio River Valley promises cleaner air and water, safer communities and better health, and a stronger, more prosperous economy for all. Transitioning to clean energy in Beaver County and Southwestern Pennsylvania would cut harmful, climate-warming emissions, create lasting job growth, lower costs for families, and keep our communities safe, modeling shows. By curbing polluting fossil fuel power generation; investing in wind, solar and hydropower; electrifying cars and buildings; making our homes, stores, and workplaces more efficient; and sharing renewable resources across the region, we can make the Ohio River Valley a better, safer place to live. As a bonus, the pathway cuts power sector emissions by 92% and creates more than 12,000 jobs by 2035. 
The disaster in East Palestine and continuing air pollution incidents at Shell's ethane cracker lay bare the future presented to our region by the petrochemical industry. We deserve clean, safe, prosperous communities. A transition to clean energy and away from plastics and other petrochemical products is the best way to get there. 
River Valley Organizing and other trusted community groups based in and around East Palestine are supporting affected members of the community by providing water, cleaning supplies, connections to legal counsel, and public health and safety information. Click here to support their work on Cash App.