The Ohio River Valley Institute (ORVI) launched one year ago, in August 2020, as an independent, nonprofit think tank designed to equip the region's residents and decision-makers with the policy research and practical tools they need to advance long-term solutions to some of Appalachia's most significant challenges. The Institute produces data-driven research and proposes policies to improve the economic performance and standards of living for the greater Ohio River Valley and northern Appalachia, with a focus on shared prosperity, clean energy, and equitable democracy. 
In its first year of operation, the Ohio River Valley Institute has exposed the false promises of the natural gas boom…
ORVI's first-ever report, Appalachia's Natural Gas Counties: Contributing More to the U.S. Economy and Getting Less in Return, made waves in the Marcellus and Utica natural gas region of Appalachia and beyond by putting numbers to a sentiment many had quietly assumed to be true: despite industry's claims to the contrary, the natural gas boom hasn't produced the widespread economic prosperity promised to Appalachia more than ten years ago. Released in February 2021, the report quantifies the decade-long failure of fracking in the Marcellus and Utica fields to deliver growth in jobs, income, and population to the 22 Ohio, Pennsylvania, and West Virginia counties that produce more than 90% of the region's natural gas. Despite GDP growth tripling the national average, these counties' share of the nation's jobs, personal income, and population each declined. Regardless of where you stand on the politics of natural gas extraction, the report's lead author Sean O'Leary told readers, you can't deny that the region has gotten a bad deal from the oil and gas industry. 
The report sparked conversation and heated debate across the region, spurring weeks-long media coverage and a volley of op-eds and rebuttal pieces. Appalachians on both sides of the fracking debate took to their local newspapers to cheer ORVI's data-driven approach and praise a new perspective on natural gas economics. Regional and national outlets, from the Columbus Dispatch and the Pittsburgh Post-Gazette to Forbes, picked up the story and continued citing its findings months after the report was first released.
In concert with the report's uptake, popular attitudes toward fracking in the Valley are decisively shifting. In Pennsylvania, voters are widely disillusioned with fracking and want to see a serious crackdown on natural gas operations, a July poll from Data for Progress released by the Ohio River Valley Institute found. By large margins, Pennsylvania voters across demographics are concerned about the impacts of fracking and skeptical of its benefits. 
…debunked the case for new natural gas and petrochemical development…
ORVI's first step onto the regional stage was a major one. In June 2020, ORVI released a public letter to the governors of Ohio, Pennsylvania, and West Virginia outlining the reasons why the long-ballyhooed petrochemical boom is a non-starter. The letter, signed by eight prominent economists and analysts from the region's top universities, made a compelling case that an over-supplied market, uncertain growth in demand for plastics, and shifting consumer attitudes make a major petrochemical expansion in Appalachia intolerably risky for investors and, therefore, an unsound premise on which to base regional economic development. The letter stirred up significant media coverage throughout the tri-state region for its novel approach and far-reaching support. 
Since then, ORVI has become a leading regional voice on petrochemical economics, publishing blog posts and editorial pieces on the uncertain finances of the proposed Belmont County ethane cracker, the fissures in—and environmental damage caused by—the global plastics market, and the sustained market headwinds precluding further buildout in Appalachia. In February, ORVI hosted a public forum on the "Shale Crescent" dream with panelists Kathy Hipple, Professor of Finance at Bard College and former IEEFA analyst, John Hanger, an energy consultant and former Pennsylvania DEP Secretary, and Anne Keller, an industry consultant and former Wood-Mackenzie analyst. The group unanimously concluded that "the economics do not make sense" and the envisioned petrochemical buildout is unlikely to go forward. 
In July, ORVI released a follow-up to its original report on the economic failures of the Appalachian natural gas boom. The new report, Destined to Fail, went beyond the numbers contained in the first study to explain the reasons why gas development fell far short of economic expectations—and why the industry is also incapable of generating sustainable economic growth in the future. It turns out that the natural gas industry's economic shortcomings are intrinsic and structural. No matter how much money is invested in gas development or how much gas is produced, the industry's economic model prohibits the creation of job growth or local prosperity at the scale promised to residents of the Ohio River Valley. 
ORVI also partnered with the Stockholm Environmental Institute to release a report surveying the feasibility of 200 prospective natural gas projects in Pennsylvania, Ohio, and West Virginia. The report found that in a rapidly decarbonizing economy, new gas field developments are unlikely to be profitable. Sustained low gas prices are projected to reduce gas production, crimping the supply of natural gas feedstocks for the region's much-hyped petrochemical buildout in turn. "Our analysis shows that gas and petrochemical expansion in Appalachia is a risky investment," the report's lead author, Stockholm Environment Institute's Climate Policy Program Director Peter Erickson, said.
Most recently, industry attention has turned to hydrogen development and carbon capture, storage, and utilization (CCUS) as the next horizon for natural gas. Proactive research from ORVI, including an infographic and backgrounder on the various forms of hydrogen and its uses in northern Appalachia, has helped clarify that nearly all hydrogen produced today is dirty and clean hydrogen is not yet market-ready. Truly clean, green hydrogen has important niche applications in industries that are difficult or costly to electrify, but effective reduction of carbon emissions will result from expanded electrification and cleaning up power generation. 
…and answered the question, "What's the alternative?"
But without gas or petrochemicals, what's left for the Ohio Valley economy? Time and again, explanations of the natural gas industry's failure to deliver on promises of jobs and prosperity were met with the refrain, "What's the alternative?" For residents of a region so historically dependent on extractive industries, to admit that gas has hollowed out the Appalachian economy is to admit hopelessness and defeat. But a new study, released in July, outlines an answer to the question that has satisfied and intrigued even natural gas proponents. The Centralia Model for Economic Transition in Distressed Communities profiles the long-distressed coal town of Centralia, Washington, a former coal community that kickstarted its economy into overdrive with targeted investments in energy efficiency, education, and clean energy. Communities in Appalachia and beyond could apply learnings from the Centralia model of economic development to foster similarly far-reaching, sustainable job growth and prosperity. 
ORVI has shared the story of Centralia with decision-makers across the region and beyond, from Wheeling, West Virginia's city council to the commissioners of Greene County, Pennsylvania and Belmont County, Ohio. Even staunch proponents of the natural gas and coal industries have expressed excitement about Centralia's model for alternative development, acknowledging that a more diversified economy is a stronger one. 
In May, ORVI testified before the West Virginia Public Service Commission on the economic advantages of accelerating the retirement of the Mitchell coal-fired power plant in Marshall County, West Virginia. Hastening the plant's retirement, ORVI argued, could open the door for Marshall County to secure an economic transition plan like the one that has revitalized Centralia's formerly coal-based economy. Most recently, ORVI pitched the Centralia blueprint to the U.S. Department of Energy's Office of Fossil Energy and Carbon Management as part of a public hearing on petrochemical development in Appalachia. 
Pennsylvania in particular has an unprecedented opportunity for economic transition and recovery in the Regional Greenhouse Gas Initiative, the nation's first cap-and-invest program for greenhouse gas emissions, according to a June report by Research Fellow Joseph Cullen. Options and Opportunities for Coal Plant Communities: Pennsylvania and the Regional Greenhouse Gas Initiative (RGGI) describes eight case studies from New York, Massachusetts, Colorado and Washington to identify how RGGI revenue could fund successful approaches to invest in and strengthen local communities that have experienced coal power plant closures.
ORVI has shaped national and regional policy conversations around abandoned mine lands… 
In April, ORVI and Reimagine Appalachia released "Repairing the Damage," a set of reports expounding a list of federal recommendations to clean up and reclaim the oil and gas industry's abandoned assets. Research Fellow Eric Dixon's Repairing the Damage: Cleaning Up the Land, Air, and Water Damaged by the Coal Industry Before 1977 explains the significant disparity
between federal expenditures on abandoned mine land (AML) reclamation and the true price of AML cleanup, concluding that a robust and well-funded reclamation program with appropriate labor provisions is necessary to address the full scope of AML damage—and could create thousands of jobs in the process. 
Dixon presented his findings before the Pennsylvania Department of Environmental Protection in March, and his research informed the U.S. House Committee on Natural Resources' hearing on Restoring Abandoned Mine Lands, Local Economies, and the Environment. In June, Sen. Joe Manchin (D-W.Va.) cited the report in a Senate committee on the federal infrastructure bill:
"The Department of the Interior estimates the cost to complete [abandoned mine land] reclamation work at $10.6 billion. According to recent reports from the Ohio River Valley Institute, there could be as much as $18 to 20 billion in unfunded reclamation across the US, and roughly 84% of remaining damage is concentrated in Appalachian states," Manchin noted during the Committee on Energy and Natural Resources Hearing to Examine Infrastructure Needs.
…and orphan oil and gas wells.
Senior Researcher Ted Boettner's report, Repairing the Damage from Hazardous Abandoned Oil & Gas Wells: A Federal Plan to Grow Jobs in the Ohio River Valley and Beyond, outlines Central Appalachia's orphan well problem. As many as 538,000 abandoned wells— remnants of a century of oil and gas drilling—are leaching pollution into the air and water of Ohio, West Virginia, Kentucky, and Pennsylvania. A large-scale federal program to plug them could create thousands of jobs and curb harmful greenhouse gas emissions. 
In April, Boettner brought his research to Congress, where he testified on the pollution reduction and job creation possibilities of the Orphan Well Cleanup and Jobs Act before the House Committee on Natural Resources. Boettner's work also headlined a national CBS broadcast on the economic benefits of orphan well remediation. "This is about creating jobs where people want to work and want to live, and not about dislocating them to places they don't want to be," Boettner said.
Our organization has forged partnerships with local organizations…
ORVI works closely with local and regional advocacy organizations and coalitions across the tri-state area. Our research corroborates and uplifts frontline stories while providing tools for advocacy outreach. The friends and partners with whom we have collaborated this year include Concerned Ohio River Residents, the Breathe Project, People Over Petro Coalition, Freshwater Accountability Project, Climate Reality Project, FracTracker Alliance, Center for Coalfield Justice, Pittsburgh United and more. 
…and policymakers.
ORVI staff have held educational meetings with senators, congressional offices, state legislators, county commissions, city councillors and regional economic development groups to discuss the practical and actionable implications of our research on natural gas and alternative development
We've shifted the narrative in local and regional media…
Ohio River Valley Institute research has informed hundreds of articles and opinion pieces across the Ohio River Valley and beyond. To date, more than 770 news stories have cited ORVI data or quoted ORVI researchers, reaching a total online and print audience of nearly 181 million. Our staff has authored more than a dozen op-eds in local and regional publications, including the Pittsburgh Post-Gazette, the Columbus Dispatch, the Charleston Gazette-Mail, and the Pennsylvania Capital-Star.
…and online. 

ORVI's first year of operation saw an explosion of digital growth. Our organization's multimedia outreach campaign has included animated explainer videos, virtual presentations and panel discussions, fact sheets and infographics, and viral video spotlights. 
Honorable mentions: 
Distinguished anti-fracking advocate Sandra Steingraber

Pennsylvania State Senator Nikil Saval

Philadelphia Inquirer editorial board member Abraham Gutman

a host of policy, research, media, and advocacy groups and organizations, including:

National Wildlife Federation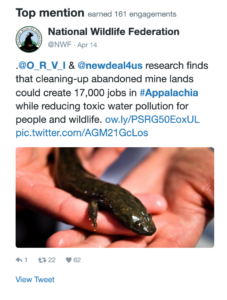 Climate Power

People Over Petro Coalition

PennFuture
Climate Reality Project

Center for Coalfield Justice
Staff and Research Fellows
Joanne Kilgour, Executive Director

Ted Boettner, Senior Researcher

Sean O'Leary, Senior Researcher

Ben Hunkler, Communications Associate

Eric de Place, Research Fellow

Eric Dixon, Research Fellow

Kathy Hipple, Research Fellow

Joseph Cullen, Research Fellow
Advisory Council and Contributors 
Martina Angela Caretta

Tony Ingraffea

Jill Kriesky

Leslie Marshall

Lou Martin

Matt Mehalik

Nick Muller

Mark Partridge

Mark Paul

John Russo

Heather M. Stephens

Monica Unseld

Jamie Van Nostrand

Amanda Weinstein

Jaimie Worker

Anne Keller

John Hanger
Special Thanks
Community Foundation for the Alleghenies 

Heinz Endowments