The close of 2022 marks the second year of the Ohio River Valley Institute's research on clean energy, shared prosperity, and equitable civic structures in the greater Ohio River Valley and Appalachia. Two years ago, our organization launched as an independent, nonprofit think tank designed to equip residents and decision-makers with the policy research and practical tools they need to advance long-term solutions to some of Appalachia's most significant challenges. Today, we look back with gratitude on the impacts we've made in our second full year of operation. Thank you to those who have made our work in 2022 possible—together, we've:
Published 29 new blog posts, explainers, and chartbooks
Released 6 in-depth reports
Developed a blueprint for clean energy transition in Western Pennsylvania,
Been cited by 725 news stories and opinion pieces, reaching a total audience of nearly 800 million and generating $5.8 million in publicity value.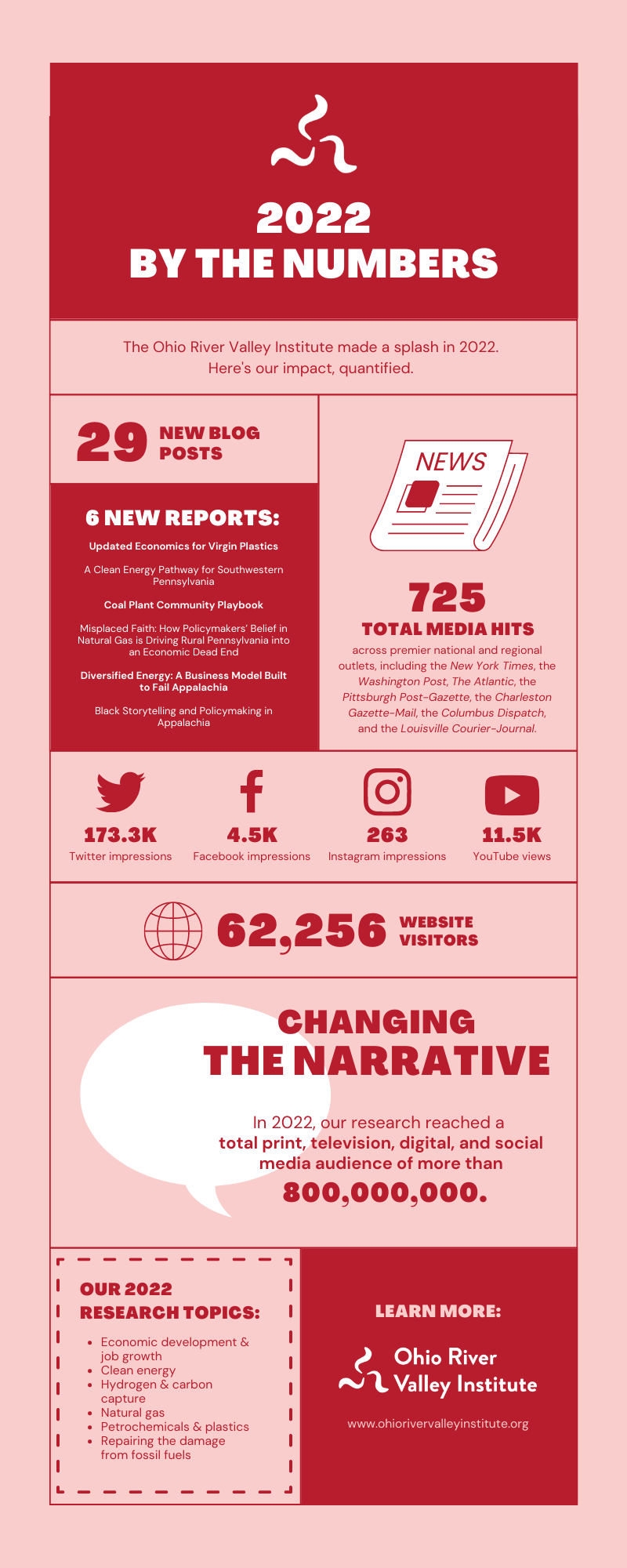 2022 proved a watershed year for abandoned mine land and orphaned oil and gas well cleanup. The passage of the Bipartisan Infrastructure Law in November 2021 provides billions of dollars in federal funding to repair generations of damage caused by the oil, gas, and coal industries. ORVI researchers tracked the development and allocation of federal funds to determine their impact—and how best to maximize it—in the Ohio River Valley. 
In January, the federal government announced the first round of $1.15 billion in funding to plug, remediate, and reclaim orphaned oil and gas wells, part of the infrastructure law's $4.7 billion Orphaned Well Program. Senior Researcher Ted Boettner's federal funding explainer parsed out the details of the legislation and its regional ramifications. Altogether, Boettner notes, the bill could bring more than $1 billion in new resources to plug as many as 22,000 orphaned wells across Kentucky, Ohio, Pennsylvania, and West Virginia, creating well-paying jobs, remediating environmental damage, and restoring damaged habitats. Still, available funding is only enough to decommission about one-third of the region's documented orphaned wells inventory, not to mention the hundreds of thousands of additional undocumented wells. Maximizing the impact of federal funding will require establishing a common definition of "orphaned wells," along with a national database; standardizing decommissioning practices; requiring regular inspections of plugged wells; and establishing apprenticeship programs, in-house plugging programs, and contractor policies to grow local economies and promote good jobs, Boettner writes. 
Since Boettner's initial writing on the well-plugging resources in the infrastructure law, the first tranche of federal funding have gone out the door. States and tribes are now working through hiccups in funding allocation and implementation. Boettner's analysis of Ohio River Valley states' initial phase of well-plugging grants (updated January 2023) finds that small budgets and insufficient staffing are forcing some state orphan well offices to outsource well inspection and plugging work to private contractors, a departure from precedent. The shortfall of funding could lead to the "fox guarding the henhouse," Boettner writes.
Part of the problem with low-producing and orphaned wells is the enormous amount of air pollution they emit into the atmosphere. In June, Senior Researcher Ted Boettner interviewed Staff Scientist Mark Omara, who explained that low-producing wells are the most abundant types of oil and gas wells in the US, comprising about 80% of the country's nearly one million active wells. They're also a leading source of climate-warming methane, emitting about four million metric tons—enough gas to supply 3.6 million American homes, or the annual residential natural gas demand for the entire state of Ohio—each year. Mitigating these emissions is not only an environmental imperative, Omara explains, but cost-effective, as well. Instituting both low- and high-tech monitoring programs and advancing policy to eliminate oil and gas emissions is feasible today, and according to estimates from the International Energy Agency, almost all global oil and gas methane emissions can be reduced at no net cost because the dollar value of the captured gas offsets abatement costs. 
The 2021 Bipartisan Infrastructure Law also marked an historic investment in the reclamation of land and water damaged by the coal industry before 1977. Senior Researcher Eric Dixon's analysis of the bill finds that, though the funding is only enough to address about half of the country's remaining coal mine damage and privileges some states and tribes over others, the investments are the largest in the program's history. The infrastructure law represents a categorical step forward in remediating the polluted water, dangerous landslides, mine fires, and other problems from historic mining. The investments will create more than 4,000 reclamation jobs each year for fifteen years, in addition to helping spur thousands of additional jobs throughout the economy. And a lot of this job growth will be in Appalachian counties with disproportionately high unemployment and poverty rates. But these much-needed jobs likely won't be family-sustaining union jobs – not without policy action to help level the playing field for union workers, like enforcing prevailing wage law, prioritizing apprenticeship programs, bundling smaller contracts, and prohibiting irresponsible firms, like coal companies with histories of violations, from bidding on reclamation projects.
As the federal government implements the mine cleanup program in the coming years, steps also need to be taken to maximize the impact of funding and clean up the most damage, Dixon explains, including by ensuring money is actually spent on coal cleanup, closing funding loopholes, and prioritizing an update of the abandoned mine inventory.
An April report authored by Senior Researcher Ted Boettner, Research Fellow Kathy Hipple, and Dr. Anthony Ingraffea, Dwight C. Baum Professor of Engineering Emeritus at Cornell University, daylighted the questionable business model of the nation's largest owner of oil and gas wells. Diversified Energy employed unusual financial practices and decommissioning assumptions far outside of industry norms to amass tens of thousands of aging, low-producing oil and gas wells, earning revenue by eking out the little fuel that remains. The company's business model could leave Appalachia with an avalanche of orphaned wells, rampant climate-warming methane emissions, and billions in unfunded liabilities, Boettner, Hipple, and Ingraffea warn. States require the company to plug and abandon wells that no longer produce oil or gas, but Diversified has extended its decommissioning obligations and skirted plugging costs by employing uncommon accounting practices. Official financial statements and natural gas price projections show that Diversified does not have enough funds to plug its entire catalog of wells. If the company—or other owners of low-producing wells in the region—were to go out of business, states could be on the hook for billions in plugging costs since operators are not required to set aside sufficient funding for well decommissioning upfront. On the heels of the report,  a group of West Virginia landowners filed a lawsuit against Diversified and fellow well owner EQT, alleging that Diversified's purchase of 700 EQT wells was a fraudulent attempt to evade cleanup obligations.  
The Bipartisan Infrastructure Law, codified in November 2021, earmarked $8 billion for a fleet of regional hydrogen hubs across the country. The past year has seen a flood of proposals from public and private industries to secure a hub powered by natural gas and retrofitted with expensive, unproven carbon capture technology in the Ohio River Valley. As hype for hydrogen continues to build, dispelling false notions about the technology has become a principal component of the Ohio River Valley Institute's work. 
In March, as the Department of Energy was soliciting proposals for regional hydrogen hubs, Senior Researcher Sean O'Leary penned a report explaining why such a hub in the Ohio River Valley is a "boondoggle in the making." O'Leary points out that a regional hydrogen hub—and the additional investment in carbon capture technology required of plant owners—would drive up utility bills, create few new jobs, and miss a large share of the emissions it's intended to eliminate. A hub would also block less costly climate solutions that can create more jobs and actually eliminate the climate-warming emissions only partially abatable by hub development. And, it's not the first time some hydrogen hub backers have taken the Ohio Valley down the path of grandiose visions that ultimately failed: namely, the Appalachian natural gas boom, which ultimately yielded little impact on jobs and population, and the fizzled Appalachian petrochemical "renaissance."
Throughout 2022, hydrogen hub proponents failed to answer a crucial question about the development of such projects: how much would they cost? In June, O'Leary did the math: a full-scale hydrogen and carbon capture hub would add $1,000 to $3,000 or more per year to Western Pennsylvanians' taxes, utility bills, or a combination of both, he found. The cost of carbon capture for both manufacturing hydrogen and generating electricity is so high—"absurd," in O'Leary's words—that it will likely sink the entire enterprise long before a shovel ever goes into the ground. 
In April, ORVI helped convene a panel of Western Pennsylvania leaders and energy and economic experts to explain the potential impact of a hydrogen hub on Western Pennsylvania's economy, environment, and carbon emissions. Pittsburgh City Council Member Erika Strassburger, Allegheny County Council Member Olivia Bennett, and Pennsylvania State Representative Sara Innamorato hosted the virtual session, recorded here.
Critical to the rapid development of a hydrogen and carbon capture hub is infrastructure for carbon storage. Hub developers are sketching out an entire fleet of Class VI injection wells to store captured carbon underground, but before breaking ground, their permits must be approved by relevant regulatory bodies. The problem? The authority to permit Class VI wells is currently held by the federal EPA, which, in some cases, has considered Class VI well permit applications for up to six years before granting approval. That's too slow to build hydrogen hubs. To accelerate the permitting process, states are applying for primacy, or primary management responsibility over Class VI well permitting. ORVI's webinar on Class VI injection wells and the accelerating race for primacy in the Ohio River Valley and the Gulf South, featuring Executive Director Joanne Kilgour, Deep South Center for Environmental Justice's Monique Harden, and Earthjustice's James Yskamp, covered the threats posed by carbon capture development, the regulatory frameworks that have enabled it, and strategies on how to organize against it.
Since then, we've started to put those strategies into action. Tom Torres, Hydrogen Campaign Coordinator, joined ORVI in August 2022 to organize a regional campaign aimed at tracking and mitigating the worst impacts of hydrogen development in the Ohio River Valley and maximizing protections and benefits for communities. This campaign has engaged dozens of organizations in Ohio, Pennsylvania and West Virginia, helping advocates to track, understand, and respond to the hydrogen hubs and related proposals and incentives. 2023 will bring important milestones for this effort, including application submissions from the Decarbonization Network of Appalachia Hydrogen Hub and Appalachian Regional Clean Hydrogen Hub, application reviews and decisions from the Department of Energy's Office of Clean Energy Demonstrations, and efforts from legislators and regulators to establish and incentive a regional hydrogen and carbon capture network.. ORVI staff will continue to work hard to ensure that leaders in the region fight for shared prosperity rather than more false solutions and failed promises, like the proposed blue hydrogen hubs.
Crucial to the success of the campaign is combating industry-fueled misinformation. In October, the US House Committee on Oversight and Reform published a startling new memorandum as part of its ongoing investigation into fossil fuel misinformation: according to internal documents and correspondence, the fossil fuel industry is pushing carbon capture as a climate solution despite private admission that the technology is meant primarily to prolong and expand oil and gas drilling. In truth, carbon capture is a Trojan horse for more drilling, more pollution, and more net carbon emissions.
But the truth about carbon capture and hydrogen development hasn't stopped the hype from industry and policymakers alike. In November, Pennsylvania Governor Tom Wolf signed into law House Bill 1059, an amendment to the state's Tax Reform Code that, among other things, establishes subsidies for the development of a natural gas-based blue hydrogen and carbon capture hub. The bill earmarks $50 million annually in state tax credits for hydrogen hub developers, a move that Gov. Wolf claims will help decarbonize Pennsylvania's economy, grow local jobs, and advance environmental justice. Executive Director Joanne Kilgour and Hydrogen Campaign Coordinator Tom Torres responded to the legislation with a fact-checking blog post to correct false, incomplete, or misleading claims made by supporters of blue hydrogen and carbon capture development as hype for these technologies escalates. In fact, blue hydrogen hub plans are expensive, unproven, and significantly less effective than other means of reducing climate-warming carbon emissions. 
As our two-minute explainer video and issue primer make clear, hydrogen and carbon capture aren't worth the hype. Job growth, shared prosperity, and a cleaner, safer, liveable Ohio River Valley—and planet—will require pivoting to cost-effective, proven strategies for economic development. 
In 2022, those strategies culminated in the region's first blueprint for renewables-based energy transition. The Clean Energy Pathway for Southwestern Pennsylvania, developed by Strategen, charts a course for accelerated decarbonization that would boost employment and reduce harmful, climate-warming emissions more effectively and at a lower cost than gas-based decarbonization models. The Clean Energy Pathway would slash power sector CO2 emissions by 92% and create more than 12,000 new jobs by 2035, by focusing on the power sector as the backbone of the region's clean energy transition: developing non-emitting resources, like wind, solar, and legacy nuclear; centering energy efficiency upgrades; increasing electrification; and leveraging energy imports would minimize the need for polluting fossil fuels while maximizing emission reductions and job growth. 
The Clean Energy Pathway debuted at one of the energy world's largest stages. In October, ORVI and partners unveiled preliminary findings from the Clean Energy Pathway at the 2022 Global Clean Energy Action Forum, a three-day conference on accelerating the transition to a clean energy economy. Billed as the "biggest energy event of the year," the forum convened more than 6,000 energy leaders—representing governments, industries, NGOs, and communities from around the world—in Pittsburgh. ORVI's research made a splash at the forum, in subsequent media, and throughout the public sphere. In a widely-circulated open letter to forum attendees, published as a full-page advertisement in the Sunday edition of the Pittsburgh Post-Gazette, ORVI and nearly a dozen western Pennsylvania elected officials described why it's fitting that the Clean Energy Ministerial chose Pittsburgh, long the heart of American energy and industry, as the host city for the premier energy convergence of 2022.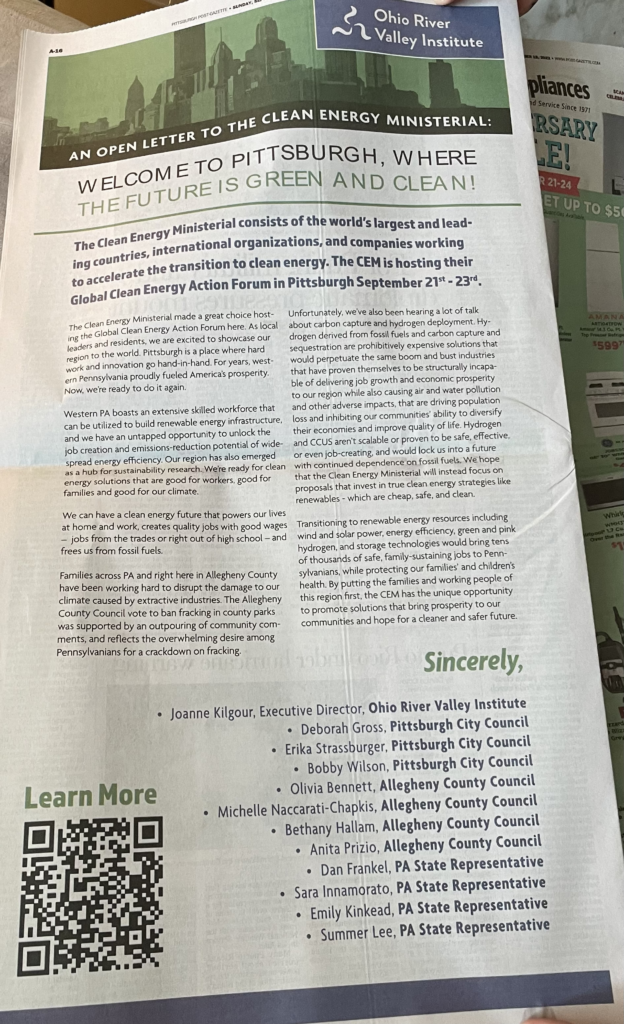 Economic development and decarbonization at a local and regional scale continued to be a throughline of ORVI research in 2022. Contributing researcher Wendy Patton launched a new blog post series on local economic development initiatives strengthening local economies and anchoring investment in Appalachia. Her work surveyed promising community development strategies, such as a new Ohio program that would train people to convert gas-powered cars into electric vehicles, leveraging existing auto repair skills to create immediate employment and encourage local entrepreneurship. Patton has also underscored the necessity (and economic opportunity) of housing workers during an affordable housing crisis. Public programs to create and maintain worker housing stock can create construction jobs and supply workers with diverse, affordable housing options, she writes. 
In August, Research Fellow Joe Cullen published an economic development playbook for coal communities facing the closure of power plants. The playbook summarizes successful transition plans adopted by communities when local generating plants have closed operations, describing various types of investment and planning partnerships, methods of assessing local assets, and potential resources provided by local, state, and federal agencies.
Another key resource for local economic development? The pilot RECOMPETE Act of 2022.  Senior Researcher Ted Boettner and guest author Stephen Herzenberg, director of the Keystone Research Center, explain that the RECOMPETE Act would carve out grants for persistently distressed local labor markets, local communities, and tribes to develop comprehensive economic development plans, supporting long-term economic growth, creating lasting, quality jobs, and increasing "prime-age" employment rates and per capita earnings. A $200 million pilot version of the RECOMPETE Act was set into motion in December 2022.
The past year presented serious challenges to climate-forward economic development, as well. The US Supreme Court's decision in West Virginia v. EPA hampered EPA's authority to lower greenhouse gas emissions and combat the climate crisis after the Court held that the Clean Air Act did not give EPA authority to limit power plant emissions based on the power sector's ability to shift from fossil fuels to cleaner, more cost-effective renewable energy sources. Shortly afterward, ORVI hosted a panel discussion on the legal and practical climate implications of the ruling, with legal experts Jamie Van Nostrand, Robert B McKinstry, Jr., and Miranda Leppla.
After more than a decade of job loss and population declines, decision-makers in the Ohio River Valley continue to look to natural gas development as a viable model for economic development. New research by Senior Researcher Sean O'Leary quantifies how policymakers' continued belief in natural gas is driving rural Pennsylvania into an "economic dead end." Pennsylvania's rural natural gas counties have lost jobs every year since 2012 and are struggling with a rate of population loss among the worst in the nation, O'Leary's analysis shows, and though some oil and gas proponents say rural economies would have fared even worse without the natural gas boom, data suggest otherwise. The twenty rural Pennsylvania counties without significant natural gas production have fared no worse in job or population performance and, in some cases, have done better than those counties whose economies relied heavily on natural gas. 
Meanwhile, in Appalachia and across the US, continued dependence on natural gas caused electric bills to skyrocket in 2022. It's a symptom of continued dependence on natural gas, O'Leary explains, likening economy-wide inflation and natural gas to "a disease and its carrier." Ultimately, reining in rising electric prices will depend in part on reducing the region's reliance on natural gas. 
In a watershed victory for Pennsylvanians and a vindication of public will, Allegheny County banned fracking and other industrial activities in county parks in July. A slew of polling data published by ORVI and other research organizations shows state voters were deeply concerned about the environmental, public health, and climate impacts of fracking and are skeptical of its economic benefits. A community-led public awareness push in June helped convince Allegheny County Council to vote to override County Executive Rich Fitzgerald's veto of the fracking ban, marking the first time in Fitzgerald's three terms that the council has reversed one of his vetoes.
The fossil fuel industry was also hard at work in 2022, doubling down on false claims to preserve its social license to operate—overemphasizing its economic impact, inflating employment numbers, greenwashing drilling operations, and feigning climate concerns. To facilitate tactful responses to industry puff pieces—with the ultimate aim of deflating false narratives—ORVI compiled a "Countering Industry Narratives" toolkit complete with relevant research, key talking points, strategic communications best practices, and sample op-eds and LTES.
Other rapid response toolkits, like a rebuttal of industry claims that fracking spurred "winning" GDP growth in Appalachian Ohio and an analysis of Ohio's gas-boosting House Bill 685, as well as an animated explainer video on the structural barriers to gas-driven prosperity, rounded out ORVI's research on the false promise of natural gas development in 2022.
In November 2022, the Shell ethane cracker plant in Monaca, Pennsylvania officially started partial operations shortly after being cited by the Pennsylvania Department of Environmental Protection for exceeding its annual CO2 emissions allowance in just ten months.  
Shell's launch likely marked the end of the Appalachian petrochemical "renaissance" first envisioned in 2017, research suggests. A December 2022 update to a previous analysis of petrochemicals markets finds that, as the Shell plant comes online, the global petrochemical industry is entering a severe "bust" cycle. Slowing demand for "virgin" plastics and market shifts in Appalachia, the US Gulf Coast, China, and across the globe raise serious questions about the viability of new petrochemical development in Appalachia and the profitability of Shell's Beaver County cracker.
Adding to the dour outlook for new petrochemicals in Appalachia? Product bans, public opinion, and corporate statements, according to a series of blog posts by Research Fellow Eric de Place. De Place explains that bans on plastic bags and other single-use products are sweeping the globe, part and parcel of a growing global movement against plastic consumption. More than 170 nations, as well as hundreds of US cities, have enacted bans on plastic products or pledged to "significantly reduce" the use of plastic by 2030. The push to ban disposable plastic products comes from a groundswell of public support for limiting plastic use. Public opinion polling shows broad concern about the problems posed by plastic pollution and  widespread support for tighter regulations on single-use plastic products. In turn, a surprising number of consumer brands and packaging companies have pledged to sharply reduce their use of virgin plastic. If these corporate initiatives are even partially effective, they could reduce total plastic consumption while tilting the market toward recycled materials and away from the virgin materials ethane crackers like Shell's would produce.
All in all, research suggests petrochemical dreams are collapsing in Appalachia. Our three-minute explainer video makes the case. 
Yet, as de Place notes, Appalachian ethane continues to fuel extra-regional petrochemical operations in the Gulf Coast and around the world. The region's production of natural gas liquids, including ethane, is forecasted to grow faster than any other region of the US over the next 30 years. New infrastructure—pipelines, compressor stations, fractionators, and petrochemical plants—is locking in demand for NGLs, driving more fracking for both gas and gas liquids.
In late July, severe storms dumped extreme precipitation across southeast Kentucky. With so much rain bearing down over such a short period, streams rose to unprecedented levels and the region experienced catastrophic flooding, likely worsened by a history of extensive surface mining in the area. In the aftermath of the flood, Senior Researcher Eric Dixon created a chart book to track the damage from the flood and federal relief to households. The chart book provides a routinely updated snapshot of the households that have applied for Federal Emergency Management Agency (FEMA) aid and how much aid has been awarded. The chart book also tracks the housing damage of FEMA applicants, including how many homes are destroyed or uninhabitable and the water level in affected homes.
Perry County, Kentucky was at the epicenter of the flooding in July. Earlier in the year, Senior Researcher Eric Dixon interviewed Emily Jones Hudson about the history of Black communities in Perry County. Hudson, founder of the Southeast African American Museum and Cultural Center, explained how the Great Migration, the decline of the coal industry, and "urban renewal" changed what were once significant Black communities in Perry County, Kentucky, and why modern economic development must focus on the needs of people, not just physical infrastructure.
New reports:
Most read research:
Staff and Research Fellows:
Joanne Kilgour

, Executive Director

Ted Boettner

, Senior Researcher

Sean O'Leary

, Senior Researcher

Eric Dixon

, Senior Researcher

Kathy Hipple

, Research Fellow

Nick Messenger, Research Fellow

Joseph Cullen

, Research Fellow

Anne Keller

, Research Fellow

Wendy Patton

, Research Fellow

Tom Torres, Hydrogen Campaign Coordinator

Ben Hunkler

, Communications Manager
Advisory Council and Contributors:
Martina Angela Caretta

Tony Ingraffea

Jill Kriesky

Leslie Marshall

Lou Martin

Matt Mehalik

Nick Muller

Mark Partridge

Mark Paul

John Russo

Heather M. Stephens

Monica Unseld

Jamie Van Nostrand

Amanda Weinstein

Jaimie Worker

Lafe Metz

Shanti Gamper-Rabindran